Premiere
1972
Finale
2016
Network
Various
Seasons
15
Episodes
1,055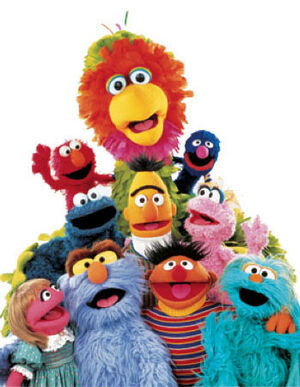 Plaza Sésamo is the original Latin American co-production of Sesame Street. The series was discontinued in 2016 and all material produced for the Latin American market was rebranded simply as Sésamo.
Premiering in November 1972 and co-produced with Televisa, the series initially featured a mixed cast of Panamanian, Argentine, and mostly Mexican performers, featured "neutral Spanish", and was meant for kids up to 8 years old. It aired at 2:30 pm on Canal 2. As the years progressed, the series more explicitly reflected Mexico, where the show is shot; in addition to airing in Mexico, Puerto Rico, and throughout Spanish-speaking Latin America, the series debuted on PBS on April 3, 1995, broadcast primarily in Southwest markets on Saturday mornings. The program is also seen on UniMás. It is the only Sesame Street co-production that can be widely seen in the United States.
Abelardo Montoya once visited his cousin Big Bird on Sesame Street in the US in an episode that aired on Cinco de Mayo.
The series was a regional semi-finalist for the 2006 International Emmy Awards, up against 5, Rue Sésame, another co-production of Sesame Street.
Episodes from 1997 to 2006 have been available on PBS Kids Sprout's on-demand service. A number of episodes from season 9 are available for purchase from The iTunes Store. Additionally, episodes from Season 9 up to 12 are available on Hulu.
Sesame Workshop description
Plaza Sésamo premiered in Mexico and Latin America in 1972. The acclaimed Spanish-language television series for preschool children depicts a colorful neighborhood, the Plaza, which is home to a mix of families, children, and Muppets. Like its counterpart, Sesame Street, the show intertwines animation, live action films, studio segments and original music videos that teach basic literacy and numeracy and help children gain a better understanding of the world around them. In 2003, Plaza Sésamo celebrated its 30th anniversary. Three decades after launching in Mexico and Latin America the series continues to educate and delight children through its television broadcast and in other media, including; books, videos, toys, and a Plaza Sésamo theme park in Monterrey, Mexico. In 2006, the first of three exciting new seasons of Plaza Sésamo will air on Televisa, Discovery Kids Latin America, Univision Puerto Rico, and TeleFutura. Additionally, Sesame Workshop will distribute the show throughout the Latin American marketplace and the US Hispanic marketplace. The new episodes of Plaza Sésamo will see the return of Abelardo, Lola, and Pancho, as well as favorites Elmo, Cookie Monster, Bert, and Ernie. Regional live action films, produced by local producers from throughout Latin America, will highlight the rich cultural diversity of the region. In addition, ten new 60-minute Plaza Sésamo home video titles, including a holiday special, will be produced along with seasons 9, 10 and 11.
History
For a list of episodes see Plaza Sesamo Episodes.
Test pilot: 1971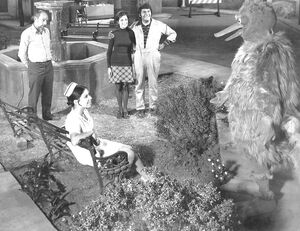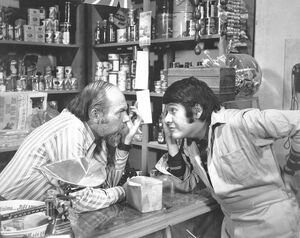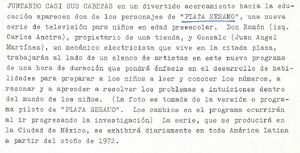 The idea of Plaza Sésamo came when several government representatives and Latin American teachers asked the Children's Television Workshop to be able to dub Sesame Street into the Spanish language. Refusing the offer under the impression that the American-based characters of the show would not work as well in a foreign environment, the CTW instead decided to assist in creating a Latin-based version of the show.
Developed by 11 consultants and psychologists across South America, a test pilot was filmed in the summer of 1971. This initial pilot test pilot was shown to forty-eight different Latin American consultants and tested on children in the fall of 1971. This initial pilot featured the same human actors that would star in the finalized series; Abelardo, a character that closely resembled Big Bird, was featured. Roughly 50% of the content that made up the pilot was content previously run on Sesame Street and dubbed, a trend that would follow into the show itself.
First run: 1972-1973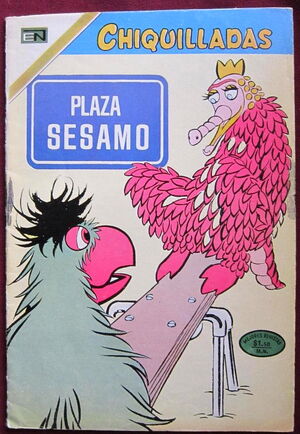 In revising the show for air, Abelardo was redesigned as a Latin-themed reptillian creature to add to the nationalized appeal, and Paco, a parrot, was added to fill a role similar to that of Oscar the Grouch. Of the content that was tested, musical-based content such as the Jazz Numbers failed to appeal to children, and were dropped in the final show.
The series debuted in November of 1972 in Puerto Rico, January 8, 1973 in Mexico and throughout spring 1973 in the majority of Latin America.[1] The cast consisted of Mexican performers and featured "neutral Spanish." Four human characters occupied Plaza Sésamo; Don Ramon, a graying shopkeeper, Gonzalo, a handyman and neighborhood hero, Rosita, a teen-aged girl, and Maria Luisa, a woman in her 20s. The setting was a plaza that resembled a typical city block in Central or South America with a center fountain, benches, vacant lot with playground equipment, houses, a combination grocery store-cafe, and a mechanic's repair shop.[2] The curriculum for this season was to teach whole "slight words" that children can learn through repetition and memorization. The show also taught children about hygiene and the importance of cleanliness.[3] The overall pace of the show was slower than that of Sesame Street to allot for the length of Spanish words and slower pace of life in Latin American countries.
First revamping: 1975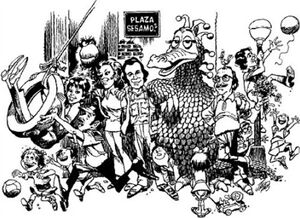 A second season of 260 episodes, officially named Plaza Sésamo II in-house, debuted on February 2, 1975. The show was heavily re-tooled to have a stronger Latin curriculum and episodes focused on issues afflicting Latin American society, including gastroenteritis. Alongside a small facelift to the plaza set and a revision to the puppet characters' designs, the cast of human characters was replaced and recast, adding an Argentinian actress and a Panamanian actor to diversify the makeup of the cast, bringing the total of the human cast from four to six. [4]
Second revamping: 1981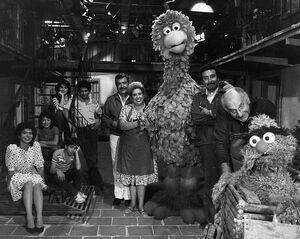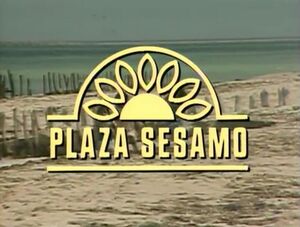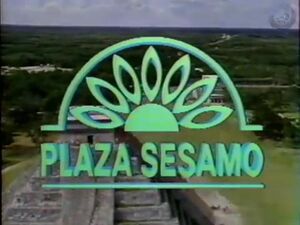 The series was revamped for a third season in 1981. In this incarnation, Abelardo and Paco were replaced by Montoya, a big parrot, and a brown grouch named Bodoque. While the first era lasted for two differentiated seasons, this revamp only lasted one.
In 1985, an earthquake in Mexico City caused a 10-ton antenna to collapse into Televisa's south tower, in the process destroying masters for many shows including Plaza Sésamo's first 3 seasons.
In 1993, the first series of Plaza Sésamo videos were released, featuring new stories with Montoya and Bodoque.
Third revamping: 1995-2001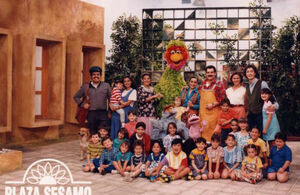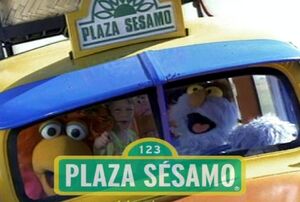 During this time, Bodoque was taken out of the show and replaced by two new characters: Lola, an energetic female monster who speaks in the third person, and Pancho Contreras, a blue monster who's always busy. Montoya was also renamed Abelardo (but he kept the name Montoya for his surname) and his personality became more playful and childlike.
New cast members were also added, some of which continue to appear to this day, including Don Boni and La Abuela. It was also during this period that the new Anything Muppet-type characters, the Multimuppet and Multimonstruo were added, allowing many new recurring characters.
This version also added the current Plaza Sesamo theme which would be modified in later seasons.
"Mercado" era: 2005-2016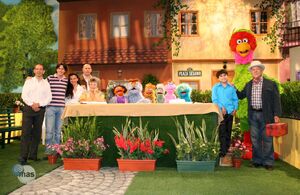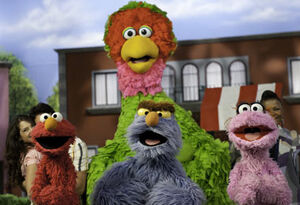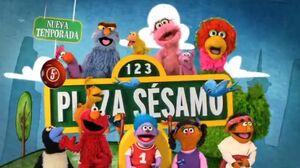 During the planning for new episodes of the show in 2003, the researchers of Latin America felt the set could use a re-vamping so it could be something all kids in Latin America could relate to.[5] The set designers created a set based on a mercado, small marketplaces that are plentiful in Latin America. The new set also used bright vivid colors like typical mercados and bright lights to reflect the bright, Mexican sun. The set debuted in season 9 in 2005.
Season 9 also brought new recurring segments used at the program's start or end. "Lola Aventuras" was introduced as a way to encourage girls to be active and productive (as well as attracting a male audience also). Other sketches include "Hazlo Tu Mismo" and "Los Monstruos También Lloran, which spoofs Telenovelas with celebrity guests. As well, a new opening theme was produced, featuring the main Muppet characters (as well as Elmo and Grover) in an animated environment, discovering the letters that spell "Plaza Sesamo".
In 2006, season 10 of the show debuted. The season focused on healthy habits, featuring various plots about food and exercise. Many episodes also ended with a special message from a celebrity and one of the Muppet characters about exercise, eating healthy and other health-related tips. Introduced this season was a family from Argentina that moved to the plaza. However, they debuted late in the season and did not appear after the season.
In 2008, the series celebrated its 35th anniversary. Season 11 debuted that year in March. During this season, several changes were made, including new actors to play La Abuela and Daniela. As well, a new Lavender Multimuppet as added to the cast. Abby Cadabby also was added to the show, appearing at the start of some episodes in three-part sketches where she performs a magic trick with an ordinary object. Two new recurring segments debuted also: A brief segment that is shown shortly after the first scene where one of the main Muppet characters introduces the letter of the day, and "Pancho Visión", a daily segment in which Pancho Contreras presents a film about his friends all over the world.
Season 12 of the show debuted in October 2009 with the main curriculum of ecology.[6] A new actor for Manuel appears.
The mercado was again revamped in season 13 (which debuted in late September 2010), and new Muppet character Gaby was added.
In 2011, Season 14 debuted in August and featured Elmo as a new character on the plaza and a new Muppet character, Camilo, who is in a wheelchair.[7] Javier Williams, producer of the broadcast, says about the new muppet character, "We made it important that working with this Telethon, from the ages of 3 or 4 years will leave a small message that no matter where a child is in a wheelchair, is still like any other." New cast members were also added including Rafael and Natalia, the first Argentinean couple.[8] The curriculum will focus on diversity of places, customs, and conditions. Guest Stars include Maite Perroni from RBD and Juanes who will appeared in a "Word of the Day" segment.[9]
2012 celebrates the 40th anniversary of the show.
For Season 15, 52 episodes debut in December 2013, the street scenes move to RCN Colombia. The new Muppets were "tech-savvy friends" Chip (owner of Café Clic) and Gina, and human cast additions were Luisa and Martin. In addition to the existing health, diversity, and literacy themes, the season added a focus on math.
Cast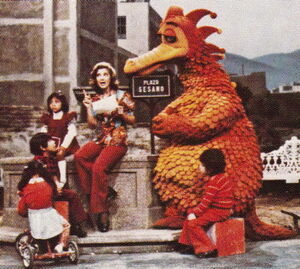 Muppet Cast in the 70s:
Abelardo (first Abelardo): Justo Martinez
Paco: Justo Martinez
Muppet Cast in the 80s:
Montoya (early Abelardo): Alberto Estrella
Muppet Cast 2005:
Muppet Cast 2009:
Other Muppets and Monsters ("Multimuppet y Multimonstruo"): Liz Serrano, Enrique Madrid, Alicia Paola Sanchez, Leticia Amezcua, Gerardo Zardain
Muppet Cast 2010:
Pancho: Alfonso Soto, Maripaz García (assist)
Other Muppets and Monsters ("Multimuppet y Multimonstruo"):

José Luis Arévalo

, Carlos Marttelo,

Eduardo de Juanbelz
Muppet Cast 2011:
Gaby: Verenice Callejo
Camilo:

Diego Monsiváis

Modesto Microfono: José Luis Arévalo
Mano de Pancho:

Gabriel Guzmán

Multimuppet: Diego Medel
Muppet Cast 2013:
Human Cast in 1975:[10]
Toño, the mechanic:

Mauricio Herrera

Alicia, public health nurse/wife of Toño:

Irene de Bari

Carlos the truck driver:

Tony Díaz

José the storekeeper: Jorge Arvizu
Mercedes the student/shop assistant: Xochiti Vigil
Fernando the airline pilot:

Fernando Balzaretti
Human Cast in the 80s:
Teresa

: Romelia Agüero

Sandra

:

Ana Silvia Garza

Sebastián

:

Jaime Garza

Miguel

: Alejandro Ibarra

Fernando

: Justo Martínez

Ana

:

Rocío Ortíz

Don Goyo

: Raúl Rossi

Pepe

: Salvador Sánchez

Paula

: Rosalía Valdés
Human Cast now:
La Abuela:

Dacia González

, Evita Muñoz, Beatriz Aguirre

Gertrudis

:

Socorro Bonilla

,

Leonorilda Ochoa

María:

Ilse María Olivo Schweinfurth

,

Paty Díaz

,

Silvia Lomelí Osorio

, M'Balia Marichal Ibar,

Mariana Sánchez Williams

Susana

:

Lorena Martínez

,

Yolanda Ventura

,

Liza Echeverría

, Mariana Garza

Juan

:

Alberto Mayagoitía

,

Raúl Magaña

Neftalí:

Héctor Hernández

,

Pedro Romo

Daniela:

María Fernanda Urdapilleta

,

Mariana Botas

,

Paula Gutiérrez

Manuel:

Manuel Bermúdez

,

Charlie Santana

,

Alan Sánchez

,

Santiago Hernández

Toño

:

Isaac Castro

Romina

:

Anahí Sánchez

Doña Mati

: Veronika Con K

Rafael

:

Mirko Ruggiero

Natalia

:

Vanina Mirki Gianbattistelli

Luisa

:

Estefanía Piñeres

Martin

:

Nicolás Salazar

Baruch Mardonado Karime Hernández
Spanish Voices
Bert (Beto): Jorge Arvizu (original), José Antonio Macías (current)
Ernie (Enrique): Jaime Vega (original), Rene Garcia (current)
Cookie Monster (Lucas): Jorge Arvizu (original), Rene Garcia (current)
Elmo: Eduardo Garza (1996-ca.2006), Igor Cruz (ca. 2006-2011), Carlos Martello (2011 onward)
Prairie Dawn (Aurora):
Zoe: Pilar Escandon (official voice), Marina Huerta (occasional voice)
Oscar: Alejandro Mayen (original), Ricardo Mendoza (current)
Grover (Archibaldo): Jose María Iglesias (original), Alejandro Mayen (second voice), Ricardo Mendoza (current voice)
The Count (Conde Contar): Jaime Vega (original voice), Martin Soto (1990s-2000s),

Carlos Torres

 (current voice)
Baby Bear (Bebe Oso): Ricardo Mendoza (oficial voice), 

Carlos Iñigo

 (occasional voice)
Abby Cadabby: Liliana Barba (official voice), María Fernanda Morales (occasional voice), Marina Huerta
Credits
Senior Producer: Ginger Brown
Line Producer: Salvador Perez
Associate Producer: Magaly Villacorta Faria
Executive Producer: Rosy Ocampo
Associate Producers: Eduardo Meza, Alfredo Gonzáles, Fernández
Music Coordinator: Alejandro Abaroa
Theme song ("Entrada a Plaza Sésamo") by Walterio Pesqueira
Animation Credits
Animation Director: Oscar González Loyo (1996-2000)
Art Director: Oscar González Guerrero (1996-2000)
Head Writer: Susana Romero (1996-2000)
Gallery
Sources
See also
External links