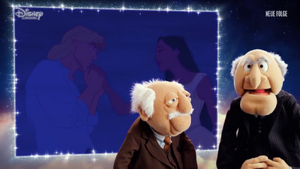 Pocahontas (1595-1617) was a Native American woman who has become a legendary figure due to her supposedly saving English explorer John Smith from death through her intervention.
The story comes from Smith's own often embellished book, and later versions (particularly a 1995 animated feature from Disney) often depicted the story as a cross-cultural romance. It is historical fact that Pocahontas existed and did assist the Jamestown settlers, however. She actually wed another Englishman, John Rolfe.
References
During the 68th Academy Awards that were held on March 25, 1996, Miss Piggy intercepts a video conference uplink between host Whoopi Goldberg and nominee Babe in order to assert her porcine ranking in Hollywood by offering to save the show with one of her sensational production numbers she titles "Porkahontas," but instead the audience is saved by the recovery of the initial connection.
Connections
Community content is available under
CC-BY-SA
unless otherwise noted.