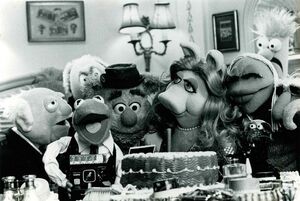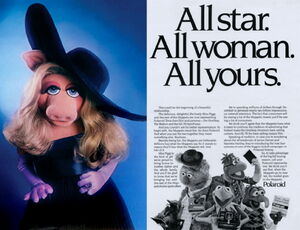 Polaroid was a company that pioneered the instant camera and was one of the leading makers of cameras and film. Due to changes in technology, the company filed for bankruptcy in 2001, and ceased making its namesake models by 2007.
In 1981, the Muppets appeared in a number of commercials for Polaroid cameras, making good use of their slogan "Polaroid means fun". The spots debuted in England.
The Muppets also appeared in magazine print ads for Polaroid.
Commercial Spots
Fozzie's Christmas Present - Kermit gives Fozzie a Polaroid camera for Christmas. Even though it's a little over his head, the bear goes on to take a photo of Kermit, Piggy, Gonzo, Camilla, Scooter, Statler and Waldorf. In the jingle-outro, Floyd and Rizzo also appear.
Stage Presentation - Mariette Hartley presents the Amigo to the audience of The Muppet Theatre. Pops can be seen briefly as Miss Piggy pulls Kermit backstage.
Gonzo's Song - Gonzo sings a sad song sitting on the porch of a house in which the Muppets are sharing pictures of themselves. He's sad that no one wants to take a picture of him until everyone comes out to convince him otherwise. Both a one minute version and a thirty second version of this spot were filmed.
Kermit's Party - Kermit throws a party for his friends, but is worried when he can't find his Polaroid One-Step. He quickly finds it and takes a picture of Fozzie, Statler, Bunsen, Zoot, Sam the Eagle, Lips, Dr. Teeth, and Camilla. Fozzie comments on the photo by saying that everybody looks happy. Statler replies by saying he thought cameras didn't lie. Gonzo comments on Piggy's h'orderves by saying that they are funnier then the picture. This leads to an angry Piggy kicking everybody out of the house. The Swedish Chef and Rizzo are also present. In the jingle-outro, Floyd and Scooter also appear.
Mariette Hartley and Fozzie show off the Polaroid's flash bar.[1]
Sources
External links