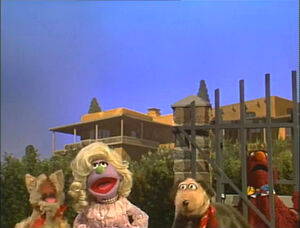 Polly Darton is a country-western singer from Sesame Street who first appeared in season 12. During the early 1990s, Polly began making recurring appearances on the street, where she gained a pair of back-up, dog singers, the Git Along Little Doggies. Her grandmother Molly Darton comes to visit her in Episode 2964.
Darton is a parody of real-life country singer Dolly Parton. The character was the idea of Emily Perl Kingsley.[1]
Polly made a cameo in Sesame Street: 25 Wonderful Years and appeared in newly recorded songs for Kids' Favorite Songs and Elmo's Lowdown Hoedown.
Performers
In her earliest appearances, Polly was voiced by Jeanie Bennett[2] and operated by various Muppet performers. By season 15, the character was taken over primarily, voice and puppetry, by Fran Brill.
Camille Bonora instead performed the character for two season 22 appearances - Episode 2794 and the song "14 Carrot Love."
Songs
Episodic appearances
Sources
See also