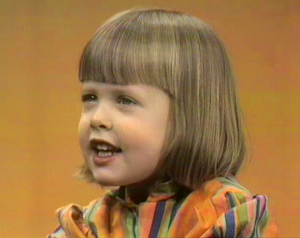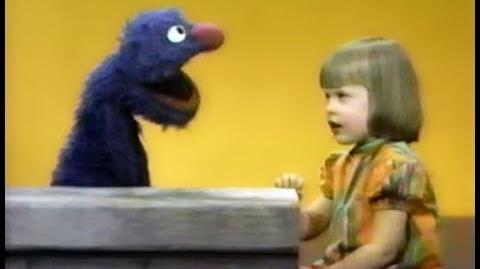 Polly Stone (b. November 1966) is the daughter of Sesame Street writer/director Jon Stone and actor Beverley Owen.
Polly appeared in at least two segments on Sesame Street: one in which she recites the alphabet with Grover, and another where she demonstrated five fingers. Decades later, she's still recognized for appearing on the show, having been identified by a pre-schooler as she recounted in Sesame Street: A Celebration - 40 Years of Life on the Street.[1] She also appears in Episode 0393 during the "One of These Things" segment and the final scene in the arbor swinging on the tire.
In his 2008 book Street Gang: The Complete History of Sesame Street, Michael Davis describes her as someone who, as a child, would have her handprints all over Sesame Street, and that she and her sister Kate were "Sesame Street's in-house, on-demand focus group" who contributed countless ideas for script material on the show. One notable example is Christmas Eve on Sesame Street, directed and co-written by their dad. Polly recounts that the plot came from her and her sister wondering how Santa Claus got down the chimney to deliver presents. The end product is a special that Dulcy Singer called "Jon's baby from the beginning. If you want to see his soul, watch Christmas Eve on Sesame Street."[2]
Years later, Polly assisted her father and Joseph A. Bailey in location scouting for the unproduced special Big Bird in Ireland.[3] She later became a school teacher and interior designer.[2]
Sources
↑ 2.0 2.1 Street Gang: The Complete History of Sesame Street page 274-275
↑ Memoirs of a Muppets Writer, pages 255-259
Community content is available under
CC-BY-SA
unless otherwise noted.