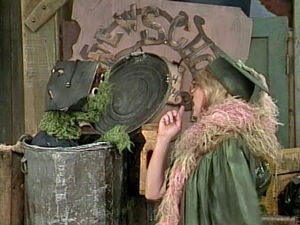 "Pomp and Circumstance" is one of a series of marches for orchestra composed by Sir Edward Elgar, his most commonly known piece. "March No. 1 in D", the first of six marches written in 1901, is popularly used as a processional for graduation ceremonies.
Appearances
Sesame Street — the march plays as Queen Quinella shows off her Q-themed throne room. (First: Episode 0164)
Sesame Street Episode 2223 — the march is played in a "sour" tone to match the grouch-themed ceremony for graduates of Oscar's New School for Grouch Research.
Sesame Street Episode 2565 — Elmo proudly marches through the library to the tune after borrowing his first book.
Sesame Street Episode 4160 — the tune plays during Oscar's Phlegmy acceptance speech.
Sesame Street Episode 4260 — a Grouch version of the march is used as Oscar's graduation tune.