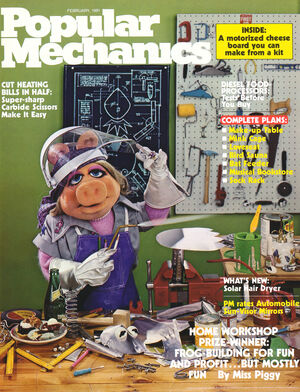 Popular Mechanics is a magazine devoted to science and technology. First published in 1902, it has gone on to spawn nine international editions. The magazine features regular sections on automotive, home, outdoors, science, and technology topics, with Jay Leno contributing a recurring column titled "Jay Leno's Garage".
The magazine was spoofed in the 1981 Miss Piggy Cover Girl Fantasy Calendar, featuring Miss Piggy building a metal Frog in her workshop.
The magazine has also reviewed Video Games, including the Sesame Street game "Mix and Match".[1]
External links
Sources