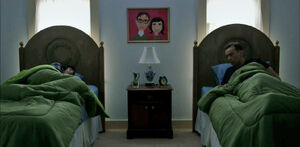 Portlandia is a sketch comedy series on IFC starring Fred Armisen and Carrie Brownstein as they play various residents of Portland, Oregon.
Appearances
Oscar the Grouch appeared in the season 5 episode "Fashion." When Fred is diagnosed with grumpiness, Oscar briefly appears in an alley way to encourage him to embrace his inner grump. Matt Vogel puppeteered Oscar for the scene with Paul McGinnis assisting, which was later re-dubbed by Caroll Spinney.
Mentions
In the season 1 episode "Baseball", a high-strung couple (Fred and Carrie) attend an outdoor movie screening in a park:
Carrie: Last time we were here, according to my watch, the movie started at 8:30 on the dot.
Organizer: Well, if it's not completely dark, then...
Fred: Just, just for next time, that's all. It's just that last time ran a little bit differently. We were here for The Muppet Movie and Muppets Take Manhattan.
In "Inside Portlandia," a bonus feature on the season 2 DVD, series co-creator Jonathan Krisel compares Fred and Carrie to Bert and Ernie, even asking rhetorically "what is their sexual preference?"
Connections
Community content is available under
CC-BY-SA
unless otherwise noted.