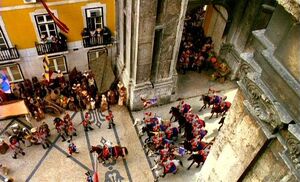 Portugal is a European nation located on the Western tip, facing the Atlantic Ocean. It is bordered by only one other country, Spain, and the two nations often engaged in rivalry, especially during the periods of exploration. While most of the South American countries were colonised by Spain, Portugal colonised Brazil, and Portuguese remains the official language. The capital city is Lisbon.
The Portuguese co-production of Sesame Street, Rua Sésamo, ran from 1989 until 1994. One of the main characters, Tita, appeared in the 1993 special Sesame Street Stays Up Late to describe New Year's Eve in Portugal, and a Portuguese child (Carlos) wished on grapes for ice cream.
The scenic beauty of Portugal was used extensively in the Jim Henson's Creature Shop film Gulliver's Travels, primarily in Lisbon. The beaches were used for exteriors, the National Palace of Ajuda as the palace of Lilliput, and the palace of Queluz was used for the Queen of Brobdignag's abode. Rua Augusta (one of the main streets of Lisbon) was used for the sequence where Gulliver is brought into Lilliput, with the street's famous arch and pavement decorations on display. The library of the National Palace of Marfra was used as the Lilliputians' Great Chamber of War.
The Portuguese firm Maia & Borges has manufactured many Muppet or Sesame PVC figures (usually sold by other companies such as Applause). Singles of Muppet and Labyrinth songs have also been exported to Portugal.
Dubs