Stamps and Other Postage: by Country and Date
Image
Subject
Date
Description
Face Value

Images: Kermit the Frog; Autographs: various (Miss Piggy, Rowlf, Fozzie, etc.)
2008
Australia Post PPE (postage-paid envelope) for Disney Muppets Christmas Cards
ca. 50 ¢
Image
Subject
Date
Description
Face Value

Kermit the Frog
2005
Duostamp®
(se-tenant strip of 5)
€ variable

Miss Piggy
2005
Duostamp®
€ variable

Kermit the Frog and Fozzie Bear
2005
Duostamp®
€ variable

Statler and Waldorf
2005
Duostamp®
€ variable

Miss Piggy, Fozzie Bear, Kermit the Frog, Gonzo and Rizzo the Rat
2005
Duostamp®
€ variable
Image
Subject
Date
Description
Face Value

Ernie
March 15, 2000
Sesame Street

(sheet of 50)
10 ¢

Big Bird
March 15, 2000
Sesame Street

(sheet of 50)
30 ¢

Super Grover, Zoe, Oscar the Grouch, Count von Count, Big Bird,
Cookie Monster, Ernie, Bert, Elmo and the Twiddlebugs
March 15, 2000
Sesame Street

(se-tenant sheetlet of 9)
20 ¢

Big Bird, Elmo and the Twiddlebugs[1]
March 15, 2000
Souvenir Sheet
20 ¢
Image
Subject
Date
Description
Face Value

Big Bird
April 20, 2000
Sesame Street

(se-tenant sheetlet of 9)
50 ¢

Oscar the Grouch
April 20, 2000
Sesame Street
50 ¢

Cookie Monster
April 20, 2000
Sesame Street
50 ¢

Grover
April 20, 2000
Sesame Street
50 ¢

Elmo
April 20, 2000
Sesame Street
50 ¢

Ernie
April 20, 2000
Sesame Street
50 ¢

Zoe
April 20, 2000
Sesame Street
50 ¢

Count von Count
April 20, 2000
Sesame Street
50 ¢

Bert
April 20, 2000
Sesame Street
50 ¢

Big Bird, Elmo, Ernie, Bert, Prairie Dawn and Grover[1]
April 20, 2000
Souvenir Sheet 1
Welcome to the Tree House
$2

Elmo, Cookie Monster, Ernie, Bert and Prairie Dawn[1]
April 20, 2000
Souvenir Sheet 2
Happy Birthday Bert
$2
Image
Subject
Date
Description
Face Value

Bert, Elmo, Cookie Monster, Samson, Tiffy and Ernie
March 02, 2020
Sesamstrasse
German Stamps
(single stamp)
€ 0.80

Bert, Elmo, Cookie Monster, Samson, Tiffy and Ernie, with 50th anniversary border
March 02, 2020
Sesamstrasse
German Stamps

(sheetlet of 10, wet-adhesive)
€ 0.80

Bert, Elmo, Cookie Monster, Samson, Tiffy and Ernie, on double-sided card
March 02, 2020
Sesamstrasse
German Stamps

(sheetlet of 10, self-adhesive)
€ 0.80
Image
Subject
Date
Description
Face Value

Bert, Baby Bear, Super Grover, Elmo, Cookie Monster, Telly, Zoe, Ernie,
Little Bird, Big Bird, Rosita, Oscar the Grouch and the Twiddlebugs
March 22, 2000
Sesame Street

(se-tenant sheetlet of 9 )
20 ¢

Oscar the Grouch, Elmo, and Grover[1]
March 22, 2000
Souvenir Sheet

$1,50
Image
Subject
Date
Description
Face Value

Bert and Ernie
September 3, 1996
20 jaar Sesamstraat

(sheetlet of 10 & full sheet of 100)
ƒ 0.70

Tommie, Ieniemienie and Pino (legs only)
September 3, 1996
20 jaar Sesamstraat

(sheetlet of 10 & full sheet of 100)
ƒ 0.80

Sien Diels
May 20, 2003
Tien persoonlijke postzegels
(single stamp in se-tenant sheetlet of 10)
€ 0.39

Tommie
May 20, 2003
Tien persoonlijke postzegels
(single stamp in se-tenant sheetlet of 10)
€ 0.39

Pino and Purk
June 6, 2006
Keuze van Nederland

(two stamps in se-tenant sheetlet of 10)
€ 0.39

Ernie and Bert
2008
de jaren: 50,60,70 nostalgie in postzegels

(sheetlet of 10)
€ 0.44

meneer Aart
2011
Ontdek 60 jaar televisie

(sheetlet of 10)
€ 0.73
Image
Subject
Date
Description
Face Value

Count von Count, Ernie, Grover, Prairie Dawn, Cookie Monster, Elmo, Bert,
Zoe, Little Bird, Big Bird, Baby Bear, Telly Monster, The Amazing Mumford,
Oscar the Grouch, Slimey and the Twiddlebugs
March 22, 2000
Sesame Street
(se-tenant sheetlet of 9)
90 s

Big Bird, Cookie Monster, Betty Lou, Bert and Ernie[1]
March 22, 2000
Souvenir Sheet

$3

United States

Image
Subject
Date of Issue
Description
Face Value

Big Bird
November 18, 1999
Celebrate the Century 1970s

(single stamp in se-tenant pane of 15)
33 ¢

Jim Henson, Kermit the Frog, Fozzie, Sam the Eagle, Miss Piggy, Statler and Waldorf, The Swedish Chef, Animal, Dr. Bunsen Honeydew and Beaker, Rowlf the Dog, Gonzo and Camilla
September 28, 2005
Jim Henson and The Muppets

(se-tenant pane of 11)
37 ¢

Jim Henson
September 28, 2005
Jim Henson and The Muppets
37 ¢

Kermit the Frog
September 28, 2005
Jim Henson and The Muppets
37 ¢

Fozzie
September 28, 2005
Jim Henson and The Muppets
37 ¢

Sam the Eagle
September 28, 2005
Jim Henson and The Muppets
37 ¢

Miss Piggy
September 28, 2005
Jim Henson and The Muppets
37 ¢

Statler and Waldorf
September 28, 2005
Jim Henson and The Muppets
37 ¢

the Swedish Chef
September 28, 2005
Jim Henson and The Muppets
37 ¢

Animal
September 28, 2005
Jim Henson and The Muppets
37 ¢

Dr. Bunsen Honeydew and Beaker
September 28, 2005
Jim Henson and The Muppets
37 ¢

Rowlf the Dog
September 28, 2005
Jim Henson and The Muppets
37 ¢

Gonzo and Camilla
September 28, 2005
Jim Henson and Muppets stamps
37 ¢

Big Bird, Ernie (with Rubber Duckie), Bert, Cookie Monster, Rosita, The Count, Oscar the Grouch (and Slimey), Abby Cadabby, Herry Monster, Julia (with Fluffster), Guy Smiley, Snuffleupagus, Elmo, Telly, Grover, Zoe
June 22, 2019
Sesame Street: 50th Anniversary

(sheetlet of 16)
Forever stamps

Big Bird
June 22, 2019
Sesame Street: 50th Anniversary
Forever stamp

Ernie (with Rubber Duckie)
June 22, 2019
Sesame Street: 50th Anniversary
Forever stamp

Bert
June 22, 2019
Sesame Street: 50th Anniversary
Forever stamp

Cookie Monster
June 22, 2019
Sesame Street: 50th Anniversary
Forever stamp

Rosita
June 22, 2019
Sesame Street: 50th Anniversary
Forever stamp

Count von Count
June 22, 2019
Sesame Street: 50th Anniversary
Forever stamp

Oscar the Grouch (and Slimey)
June 22, 2019
Sesame Street: 50th Anniversary
Forever stamp

Abby Cadabby
June 22, 2019
Sesame Street: 50th Anniversary
Forever stamp

Herry Monster
June 22, 2019
Sesame Street: 50th Anniversary
Forever stamp

Julia (with Fluffster)
June 22, 2019
Sesame Street: 50th Anniversary
Forever stamp

Guy Smiley
June 22, 2019
Sesame Street: 50th Anniversary
Forever stamp

Snuffleupagus
June 22, 2019
Sesame Street: 50th Anniversary
Forever stamp

Elmo
June 22, 2019
Sesame Street: 50th Anniversary
Forever stamp

Telly
June 22, 2019
Sesame Street: 50th Anniversary
Forever stamp

Grover
June 22, 2019
Sesame Street: 50th Anniversary
Forever stamp

Zoe
June 22, 2019
Sesame Street: 50th Anniversary
Forever stamp

Illegal Stamps

Image
Subject
Date
Country & Series
Value

Jim Henson and the Muppets
1999
Republic of Somaliland

20th Century Culture

Somaliland is not registered with the WAPD or UPU; therefore, this may be an illegal stamp.[2]
5,000 Sl. Sh.

Jane Pauley, Brad Pitt, Jim Henson & Kermit the Frog, and Kim Basinger
1999
Kyrgyzstan

Faces of the 20th Century

These are illegal stamps not authorized by the Kyrgyz postal authority.[3]
20 som

Ozzy Osbourne and Kermit
2002
Tajikistan

Queen Elizabeth II's 50th Jubilee

This is an illegal stamp not authorized by the Tajik postal authority.[2]
TJS 6
Notes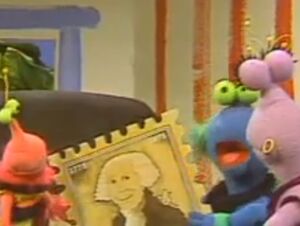 Sources
↑ 1.0 1.1 1.2 1.3 1.4 The Souvenir sheets issued in 2000 by The Cayman Islands, Fiji, Kiribati, and Samoa each contain a large decorative border (selvage) that surrounds the actual stamp. For use in postage, the actual stamp is sometimes removed from the selvage to fit onto an envelope. Thus, for example, to say that Kiribati issued two stamps depicting Elmo would be incorrect, since the stamp on the Kirbati souvenir sheet shows only Grover, while the images of Elmo and Oscar appear in the selvage. In addition, cancellation marks are sometimes accidentally applied only to the selvage of a souvenir sheet; in such cases, the actual postage stamp is considered to be uncancelled.
↑ 2.0 2.1 The World Association for the Development of Philately (WADP) and the Universal Postal Union (UPU) Numbering System.
See also
Community content is available under
CC-BY-SA
unless otherwise noted.