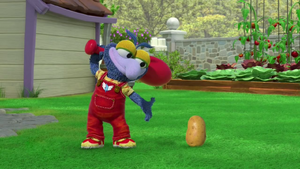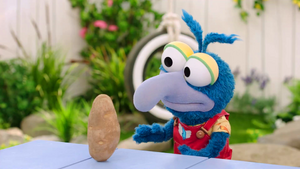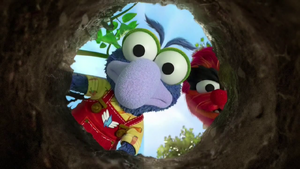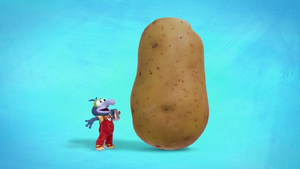 Potato is a root vegetable and Gonzo's best friend on the Muppet Babies 2018 reboot series, introduced in "You Say Potato, I Say Best Friend," and reappearing frequently throughout the series.
Miss Nanny had initially planted the seed for Potato to grow in the Nursery's vegetable garden, and it was Animal who dug him up, asking "What that?," before Gonzo lifted Potato out of the ground with the words "I don't know, but it's beautiful!" (followed by "heavenly choral music"[1]).
Though he appears inanimate, he often falls down in deadpan reaction to other characters' comments (always accompanied by a duck-like quacking sound), only to be seen standing back up on end soon after without having been touched by another character. For a brief appearance during the song in the episode "Summer the Great," Potato can be seen hopping alongside Gonzo, Summer and Camilla in the kids' imagination.
Gonzo often costumes or decorates his friend to partake in role playing activities, such as in "Chicken Round-Up" where he plays "Sheriff Potater" and a whole slew of Spud Junction's townsfolk, or in "The Friends of Zorna Club" where he is participating in cosplay. For a more detailed listing, see the gallery below.
After coming to terms with Gonzo befriending a vegetable, the other characters are fully accepting of Gonzo's best friend being a seemingly lifeless potato. And even though vegetables go through different stages in time, on the show he has yet to sprout.
According to Gonzo in the episode "The Best, Best Friend":
"Potato's super popular. He's best friends with Radish, and Cucumber, and Sesame Seed--"
Hinting at romance, he adds in "Sherlock Nose":
"Potato usually hangs out in the vegetable garden with Lettuce. They're pretty close these days!"
Costumes and props
Filmography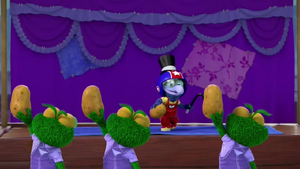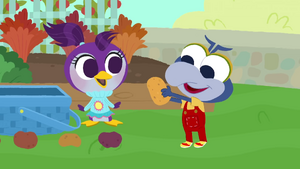 Book appearances
See also
Sources
Community content is available under
CC-BY-SA
unless otherwise noted.