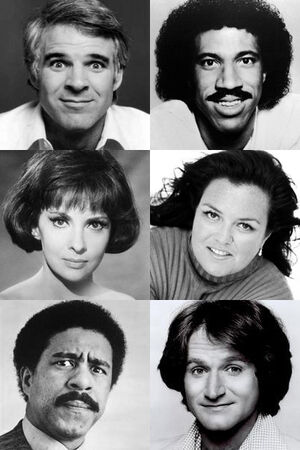 Over the years the Muppets have announced or developed episodes for their television series that never came to fruition. Many of these episodes never went beyond the early development stages.
Steve Martin — Sesame Street writers created a sketch for Steve Martin about his feet expressing his emotions; Martin canceled, and was replaced by Jim Carrey.[1]
Natalie Cole - Cole was scheduled to appear on the show, singing her hit "Unforgettable" with Forgetful Jones. Last-minute scheduling conflicts prevented the taping date and soon after, Richard Hunt passed away.[2]
Bette Davis was announced as a guest in the September 13, 1982 issue of The Times-Daily,[5] in what would have been the show's 14th season.[6] However, Sesame Workshop's database contains no record of a contract with Davis.[4]
Press statements prior to the premiere of season 28 announced several guests who not only did not appear during the season, but did not make any appearances on the show in the future. These guests include Shaquille O'Neal, Cal Ripken Jr., Kathy Bates, Alfre Woodard, Monica Sales and the cast of Bring in 'da Noise, Bring in 'da Funk.[13]
Tony Bennett - Bennett was proposed as a guest as early as March 1976, where he would sing "What Are You Doing the Rest of Your Life" to Hilda.[15]
Gina Lollobrigida - On the DVD The Story of Mummenschanz, Bernie Schurz recalls that originally, Gina Lollobrigida was planned as a guest star for season one. When she canceled, Jim Henson suggested Mummenschanz, whose performance he had seen in Geneva.
Lionel Richie - Richie was scheduled to appear as a guest in 2001's The Muppet Show Live singing "Say You, Say Me." However, Richie was unable to participate in the show due to illness.
During the course of The Muppet Show, Jim Henson wrote out a list of dream guests—and urged the writers and puppeteers to do the same. Among those potential guests on Henson's list were Bil Baird, Shari Lewis, Burr Tillstrom, Stan Freberg, Mae West, Mia Farrow, Princess Anne, Kim Novak, and Katharine Hepburn. The dream line up assembled by the Muppet performers and writing staff included such stars as Dustin Hoffman, David Bowie, Salvador Dali, Michael Caine, Robert DeNiro, Frank Zappa, Meryl Streep, the entire Monty Python troupe (though one of their members would eventually guest star), and The Beatles.[17]
Rosie O'Donnell - In a cold opening sketch aired in the summer of 1996, O'Donnell attempted to court Miss Piggy via telephone into being a guest on her new daytime talk show. O'Donnell succeeded by reminding Piggy that she was already scheduled to appear on Miss Piggy's current show, Muppets Tonight. However, the series was canceled before O'Donnell could ever appear. O'Donnell also mentions that she's going to be on Muppets Tonight when Miss Piggy hosted The Rosie O'Donnell Show.
See also
Sources
Community content is available under
CC-BY-SA
unless otherwise noted.