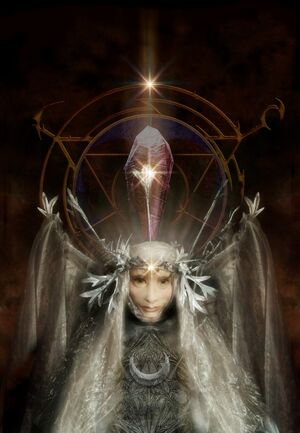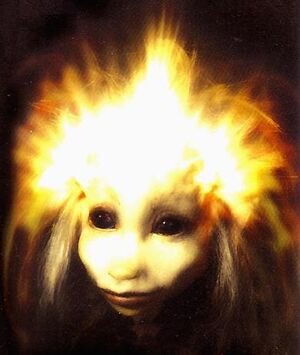 Power of the Dark Crystal is a proposed sequel to the 1982 fantasy film The Dark Crystal.
Set hundreds of years after the events of the first movie when the world has once again fallen into darkness, "Power of the Dark Crystal" follows the adventures of a mysterious girl made of fire who, together with a Gelfling outcast, steals a shard of the legendary Crystal in an attempt to reignite the dying sun that exists at the center of the planet.[1]
After twelve years of development (detailed in this article), the script for the film would finally end up being adapted into a 12 issue comic book series in 2017.
Early development and setbacks
The film project was first announced in Variety in May 2005 when the Jim Henson Company bought a script by David Odell and Annette Duffy.[2]
In January 2006, the Henson Company announced that Orphange Animation Studio would be providing CG animation elements and named Orphanage's Genndy Tartakovsky (creator of Dexter's Laboratory and Samurai Jack) as director for the film.[3]
Brian Froud, the designer of the original film, worked with the Henson Company on concept art for the new film. Tartakovsky and Froud appeared with Lisa Henson and Michael Polis to talk about the film at the San Diego Comic-Con in July 2006.[4] Froud's concept art for Queen Kira was featured on the cover of Cinefantastique.[5] More concept art was revealed in October 2006, accompanying an article on MTV.com.[6]
The MTV.com article provided a plot summary:
"

The Power script continues the tale of elfin heroes Jen and Kira, last seen returning the shard to the evil crystal and seemingly abolishing the vulture-like Skeksis from their land. Set many years after the first flick, Power casts Jen and Kira as king and queen, now overseeing a kingdom whose peace is disturbed by a visit from the underground-dwelling U-mun people. After the Gelflings refuse their request for a shard of crystal that could preserve the U-mun race, a desperate visitor takes it anyway, threatening their world with another thousand years of chaos.

"
Lisa Henson announced at Comic-Con 2007 that the production had hit a "setback":
"

Fans of The Dark Crystal did detect that we were moving a little slowly, and it's kind of true - we had a little setback but are back on track. The movie will not be coming out until 2009 so we're not going to be showing anything for a while...[7]

"
Indie director Shane Abbess was attached as a director for some years after the 2007 release of his film Gabriel.[8] Speaking in 2015 of his experience working on the failed project, Abbess told The Guardian "When I quit The Dark Crystal it was because I'd fallen in love with Jim's handwritten notes on what his sequel idea was. All I wanted to do, for the fans and for myself, was shoot his version of the film. But nobody gave a shit about what Jim Henson wanted."[9]
During this time Henson worked to adjust the film's script. At one point Cory Edwards was asked to work on a rewrite of the script for the sequel. While a deal never came together for Edwards, he says that the offer led to conversations with the studio that resulted in him being picked as writer/director for the Fraggle Rock movie.[10]
Nicole Goldman, the Henson Company's VP of Marketing and Publicity, responded to fans' inquires as to the status of the project on the Jim Henson Company Podcast in January 2008, stating:
"

[The film] is deep in development here, and we are as committed to it as ever. We are still planning our original vision of a film, which is a theatrical release... We are anticipating a beautiful blend of puppetry and animatronics with CG animation backgrounds as we've said all along... We're all very excited to see the film come together, and we'll be sure to update the fans to the progress as we have those updates confirmed. So stay tuned for more information on Power of the Dark Crystal![11]

"
Partnership with Omnilab Media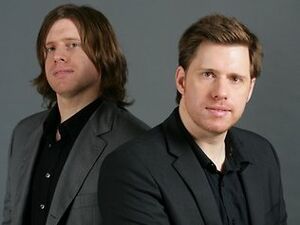 On February 4, 2009, The Muppet Newsflash reported that development on the project was still underway, with Craig Pearce (Romeo + Juliet, Moulin Rouge!) having completed a rewrite of the screenplay, with the Australian company Omnilab Media set to co-produce.[12] It was later confirmed by a May 2010 press release that Omnilab Media and The Jim Henson Company were teaming up to bring the film to the big screen and that Peter Spierig and Michael Spierig (writers and directors of "Undead" and "Daybreakers") would be directing the project, using the screenplay written by Pearce which was based on the original script by Duffy and Odell. The 2010 announcement also reaffirmed Froud's involvement as conceptual designer on the project.[1]
The film was planned to be produced and released in stereoscopic 3D using a mix of live-action and traditional puppetry combined with visual and special effects. Digital effects would have been produced by Omnilab Media's Australia-based production arm, Ambience Entertainment. Omnilab-affiliated Iloura ("Where the Wild Things Are," "The Pacific," "Don't Be Afraid of the Dark") had started work on the film's CGI elements as of May 2010.[1]
In the May 2010 press release, Lisa Henson commented on the Company's partnership with Omilab Media and the Spierg brothers:
"

Power of the Dark Crystal is an exciting and ambitious undertaking and, having worked on previous projects with the top-notch talent and crews that Australia offers, we know we have assembled the right team to deliver the sequel to one of the most enduringly popular titles in the Henson library. Peter Spierig and Michael Spierig are sure to create a film that will continue the legacy of the original and exceed the expectations of our loyal fans. We are especially enthusiastic to be working with Omnilab Media, a strong and growing force in worldwide film finance and production.[1]

"
In a November 2010 interview, the Spierig brothers acknowledged that audiences may be growing skeptical about remakes and sequels. Peter Spierig said, "Where we can, we're keeping to the spirit of Henson... We went to a convention not so long ago and we had a number of people come up and say, 'Don't you dare rape my childhood.' When one person says that, you take it on board. But when a bunch of people say it, you think, 'Wow, this really means something to them.'" Michael Spierig added, "so the last thing we want to do is screw it up."[13]
Lisa Henson spoke of the production in a December 2010 interview, stating:
"

It's in pre-production, and rather a slow pre-production at that. We have been partners with a company called Omni Lab based in Sydney, Australia. They're a very up-and-coming company and they're very ambitious for Dark Crystal. In partnership with them, we've made the movie into a much bigger film so it's taking its time to get going... Were planning on using puppetry as well as CGI and even the puppets will be augmented with CGI. But we would like to have a pretty strong component of puppetry because of that tactile quality that the original puppets have. It would be a lot simpler to make a CGI movie but we'd like to hang on to some of the puppetry.[14]

"
At the Museum of Moving Image in Astoria Queens in July, 2011, Craig Shemin was asked how things were going with the movie. He explained that the film was still in development, but it was unlikely they would start filming soon.
At the "Jim Henson: Friends and Family Panel" at the Museum of the Moving Image in September 2011, Cheryl Henson was asked about the upcoming film. She stated that the project had been put on hold until further notice.
In February 2012, it was officially announced that the project was no longer in production.[15] Apparently no one told Tartakovsky. He was still uncertain about the status in October 2012: "I haven't heard from the Dark Crystal people in a long time, so I feel that's gone."[16]
In March 2014, Brian Henson gave an update on the status of the project while promoting Jim Henson's Creature Shop Challenge confirming that "We have one written. It's really good. We don't have a production schedule or anything. It's a big movie to put all the pieces together."[17] Later that May, in an interview with Vulture, Lisa Henson confirmed the project was still in development, though not yet in pre-production, with current focus on what she described as "interactive world-building".[18]
Sources
↑ 1.0 1.1 1.2 1.3 Omnilab Media and The Jim Henson Company Join Forces to Launch the Australian Feature Production of the Highly Anticipated Power of the Dark Crystal. The Jim Henson Company. May 4, 2010.
↑ "Dark sequel crystalizes. Odell, Duffy penned script; no helmer attached", Adam Dawtrey, Variety. May 13, 2005.
↑ "Henson taps Dark lord; Helmer becomes Crystal clear", Variety, Michael Fleming. January 31, 2006.
↑ "The Jim Henson Presentation at Comic-Con!", Comingsoon.net, Scott Chitwood. July 22, 2006.
↑ "Power of the Dark Crystal makes Cinefantastique's cover", July 20, 2006.
↑ "Dark Crystal Sequel Gives Jim Henson's Puppet Epic a Second Chance", MTV.com, Larry Carroll. October 4, 2006.
↑ "Henson Podcasts Shares Comic-Con Q&A", The Muppet Newsflash, Greg James. September 10, 2007. The quote is taken from The Jim Henson Company Podcast episode 14. September 10, 2007.
↑ The Guardian "Shane Abbess: Infini film marks return of Aussie science fiction's prodigal son" by Luke Buckmaster, May 13, 2015
↑ The Jim Henson Company Podcast, episode 22. January 14, 2008.
↑ "Dark Crystal Sequel Update", The Muppet Newsflash, Greg James. February 4, 2009.
↑ Dalton, Trent. Dark Crystal sequel directors Peter and Michael Spierig keep it real with Muppets. The Courier-Mail. November 18, 2010.
↑ Lisa Henson: Keep the Puppets, Engage the Girls December 23, 2010
↑ If Magazine "The Dark Crystal sequel, The Power of the Dark Crystal, on hiatus" by Brendan Swift, 2/8/12
↑ Larnick, Eric. "Five Things We Learned From Genndy Tartakovsky About Popeye, Samurai Jack & The Future of Animation", Comics Alliance, 1 October 2012.
↑ Setoodeh, Ramin. "Brian Henson on His New Reality Show, the 'Fraggle Rock' Movie and More", Variety, 25 March 2014.
↑ Watkins, Gwynne. "Checking in on The Dark Crystal, Labyrinth, and Other Jim Henson Company Franchises", Vulture, 16 May 2014.
Community content is available under
CC-BY-SA
unless otherwise noted.