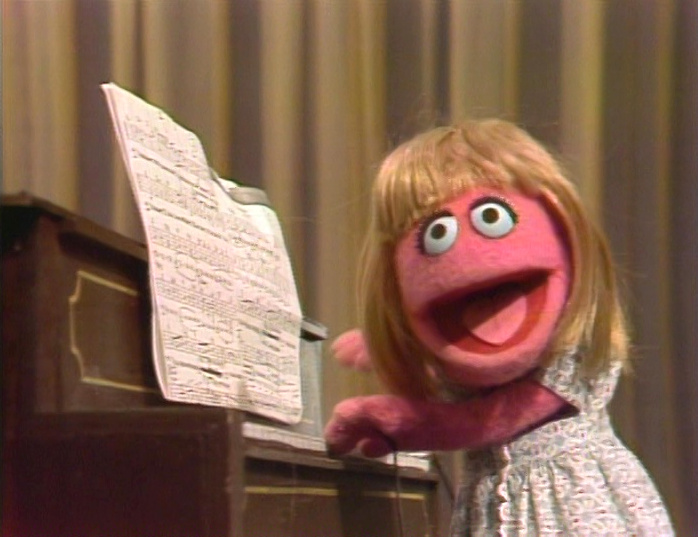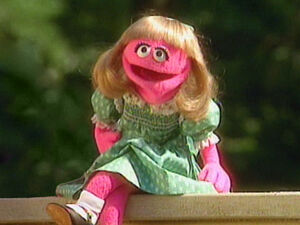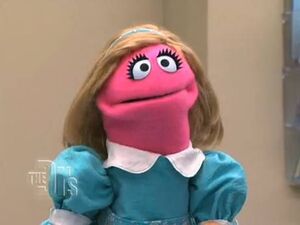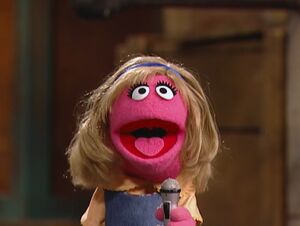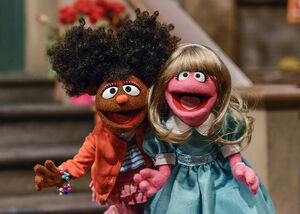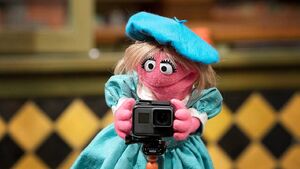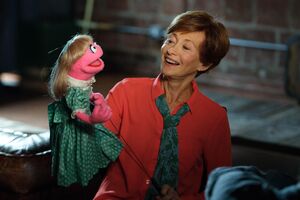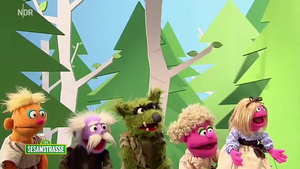 Prairie Dawn is a level-headed, six-year-old Muppet girl on Sesame Street. She is known for writing and directing school pageants featuring her friends, mostly Ernie, Bert, Herry, Grover, and Cookie Monster.
She first appeared on the show in season 2, developing a personality as an Anything Muppet, and eventually gaining a name. She's called Penelope in a sketch with Sherlock Hemlock (First: Episode 0178) and appears unnamed in a sketch about DANGER with Gordon (First: Episode 0182), preparing to play baseball (First: Episode 0193), sorting shoes with Herry Monster (First: Episode 0199), and inviting monsters to dinner (First: Episode 0248). A penchant for speaking elaborately emerged in these sketches and was present in two of her first named appearances, both in Street scenes in Episode 0252 and Episode 0260.
Detail-oriented and efficient, Prairie often aspires to work in broadcasting or journalism, presenting "Fairy Tales Today" on Sesame Street itself, serving as a correspondent for the Monster News Network in Sesame Street Stays Up Late ("I'm not a monster, but it is a job in communications."), and directing the broadcast of Elmopalooza prior to being trapped with Jon Stewart and the rest of the crew.
In addition to her pageants, she has been seen in her own segments, chronicling "The Adventures of Prairie Dawn." From Season 35 to Season 37, she hosted and frequently tried to keep Cookie Monster from eating the Letter of the Day. She can also be seen on the TV series Play with Me Sesame. On that series, Prairie Dawn initially presented artwork submitted by viewers and later hosted a segment centered on music.
Prairie Dawn has appeared in a number of game show sketches. She has been a contestant on at least two of Guy Smiley's game shows -- "The Triangle Is Right" and "What's My Letter?" -- and was also the subject of another Guy Smiley game show, "What's Prairie's Problem?" She has also been a contestant on "Squeal of Fortune", and has appeared in "The New Here is Your Life" sketch about a Glass of Milk, and made appearances in "The Letter of the Day Games."
Prairie Dawn is sometimes confused with the blonde, pigtailed Betty Lou, because both are based on the Hot Pink Little Anything Muppet. Although the two were rarely seen together on screen, they were often paired in book appearances, such as The Sesame Street Sun.
Baby Prairie Dawn and her mom are two of the main characters in Sesame Beginnings.
Despite regular appearances throughout the 1990s and 2000s, Prairie's role on the show had greatly diminished by Season 39, and she appeared in very little new material outside of a few live appearances. Prairie referenced her absence during a 2013 appearance at New York Comic Con, saying "I've been in my box."[1] Prairie made a resurgence in appearances in Season 45, appearing in a sketch with Cookie Monster, the concurrent special The Cookie Thief, and in framing scenes for the video Monster Manners.
Following Fran Brill's retirement, Stephanie D'Abruzzo took over performing Prairie Dawn starting with Season 46. She was the central character in the Orange is the New Black parody, and was featured prominently in Episodes 4608 and 4629, and in promo material for the show's move to HBO.
Notes
Prairie Dawn's birthday is August 3.
The character was named after an actress named Prairie Dorn, according to Fran Brill in Sesame Street Unpaved.
Fran Brill has stated that she enjoyed performing Prairie because "since she's a little older I can get away with pushing the envelope with her."
When Brill retired in 2014, she received an authentic Prairie Dawn puppet as a gift from the show's producers.[4] Brill's last on-screen performance as Prairie was in The Cookie Thief, where Prairie's last spoken line is "I think it may be time for me to retire!"
Although Prairie is usually said to be six-years-old (as mentioned in the song "All By Myself"), at an appearance at New York Comic Con in 2013, she said that she's seven. Although her age isn't stated, in Episode 2940, she blows out seven candles on her birthday cake.
Appearances
Episodic appearances
Book appearances
Album appearances
Character merchandise
See also
Sources