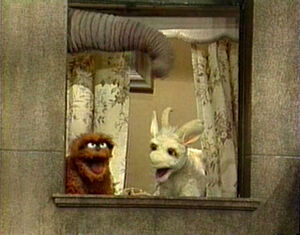 Preposterous is Oscar's puppy who appeared on Sesame Street from season 20 through season 25. He is a groucher spaniel -- a Grouch dog breed. Oscar first adopts the puppy in Episode 2577.
Preposterous just lies around and doesn't do anything; he doesn't like to bark or play. Sometimes he would even attack Oscar. He's often seen chewing on a rubber pickle squeak toy.
The dog also made background appearances in Follow That Bird and The Adventures of Elmo in Grouchland, and the View-Master Interactive Vision video Let's Play School, as a pet of one of the Grouchketeers and named Junkyard. The puppet was later modified into Oscar's pet cat, Fido, in "Elmo's World: Cats."
Appearances
See also