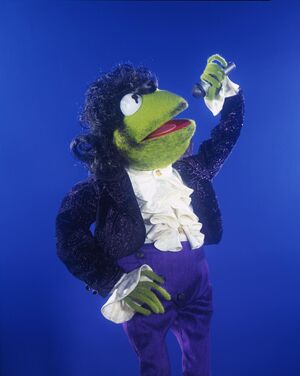 Prince Rogers Nelson (1958-2016) appeared as a guest star in episode 201 of Muppets Tonight on September 13, 1997. At the time, he was known as
(dubbed by the media as the Artist Formerly Known as Prince). A Muppet caricature of the star appeared in the same episode.
Twelve years before, in 1985, Prince won the Academy Award for "Best Original Song Score" for the movie Purple Rain, defeating Jeff Moss, nominated for his work on The Muppets Take Manhattan.
When Prince first opened his Paisley Park studio on September 11, 1987 with a three-day gala event, Muppet Babies Live! would be the first act to perform there[1], with VStar Entertainment Group booking the space for rehearsals for both the 1987 and 1988 tours.[2]
References
The Sesame Street song "Nineteen" spoofs Prince's song "1999."
On April 21, 2016, upon the news of Prince's death, the photo of Kermit as Prince from "Piggy Reigns" spoof was posted on Kermit the Frog's Facebook and Twitter accounts along with a message saying: "From Frog to Prince: We will always love your music and you. Our hearts are yours. Thanks for being a friend."[3]
Sources
See also
External links