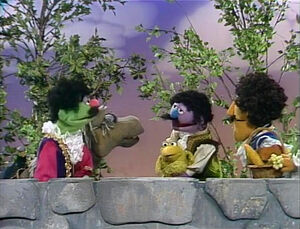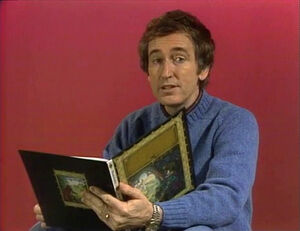 In a Sesame Street segment from Season 13, first airing in Episode 1691, Bob reads an untitled story of a king who gives each of his three sons a special item of their choice. These items include a neverending basket of food, a horse to ride, and a chatty bird who gabs about what it's seen. The king entrusts his sons with the gifts, with the goal that they be used to make people happy.
At first, the sons are unsuccessful in fulfilling their duties by themselves with their one chosen item. Upon meeting each other again, they discover that by cooperating and using all of their items together, they're able to bring their plentiful supply of food to a faraway town of hungry villagers.
Muppet performers in this segment include Brian Muehl (as the King), Frank Oz (the Lavender son), Jerry Nelson (the Green son), Richard Hunt (the Orange Gold son), and Cheryl Blaylock (the bird).
Although the story's title is not spoken in dialogue, the segment is referred to as "Princely Cooperation" in scripts.[1]
Sources
Community content is available under
CC-BY-SA
unless otherwise noted.