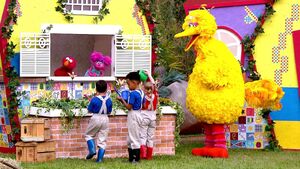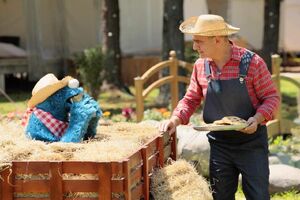 On October 5, 2019, Garibaldo, Come Come, Elmo and Abby Cadabby appeared in the SBT TV studio's park in Brazil to film a hidden camera prank insert for the famous Brazilian show Programa Silvio Santos, tying in with the American event known as 50 Years and Counting.
Normally they don't have many pranks for kids on the show, but because of Sesame Street's 50th anniversary they got permission to feature the main characters from Sésamo, the Brazilian version of the show. For this prank, a whole farm was created in the style of the former show with live animals, hiding places for the cameras, and a new nest for Garibaldo.
It took one day of filming with 17 kids and the video aired on October 13 for Brazil's Special Day for the Child and will air again at Christmas. At the end of the day, every child got an Elmo or Cookie plush as a souvenir.
Synopsis
Kids are helping a farmer inside the studio's farm, but at one point the farmer needs to go to get something and leaves the kids alone. When they are alone, suddenly they see Garibaldo sleeping on his nest. When he wakes up, he tells the children they can help him water Abby's flowers and when they arrive at the flower bed, Abby and Elmo appear. Abby asks the kids to give them water and Elmo wants them to sing together. Then Garibaldo leaves them to feed the chickens, but they all escape so he asks the children to help get them back to the chicken run, and little chicks magically appear in the nest. Then the farmer comes back with Cookie Monster and a lot of cookies. They all thank the children for their help, share the large cookies, and say goodbye.
Cast
Paulo Porto as the farmer
Credits
Executive Producer: Silvana Colossi
Written by Jefferson Candido
Director: Jefferson Candido
Producer: Pamela Pereira and Tatiana Chavier
Production Designer: Thais Araujo
Filmed at TV SBT Studios in Brazil
External links
Community content is available under
CC-BY-SA
unless otherwise noted.