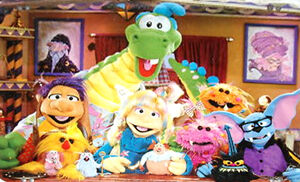 List of television series, films, and DVDs with no connection to the Jim Henson Company, but involving five or more Muppet performers and other common crew members. See also Projects with Muppet cast connections.
Note: Animated projects with shared crew in one or two categories (writers, animators, etc.) and one or two Muppet performers as voice will not be included. Documentaries and other projects where the shared crew played themselves also excluded.
46 People
27 People
The Puzzle Place (1994-1998)
21 People
Johnny and the Sprites (2005 interstitials, 2007 series)
16 People
Lomax: The Hound of Music (2008-2009)
15 People
Groundling Marsh (1995-1997)
14 People
Team America: World Police (2004)
It's a Big Big World (2006-2010)
13 People
12 People
Eureeka's Castle (1989-1995)
11 People
Jack's Big Music Show (2005-2008)
The Spooks of Bottle Bay (1992, 1994, 1995)
8 People
The Adventures of Timmy the Tooth (1994-1995)
The Great Space Coaster (1981-1986)
7 People
Wrinkles: In Need of Cuddles (1986)
6 People
Allegra's Window (1994-1997)
Round the Bend (1988-1990)
Sheep in the Big City (2000-2002)
5 People
Miss Peach of the Kelly School (TV specials, 1970s and 80s)
Puppets Who Kill (2002-2006)
St. Bear's Doll Hospital (1998)
The Upside-Down Show (2006-2008)
Cartoon Critters (1998-1999)
Toby Terrier and His Video Pals (1993-1994)
Gullah Gullah Island (1994-1998)
Sources
Community content is available under
CC-BY-SA
unless otherwise noted.