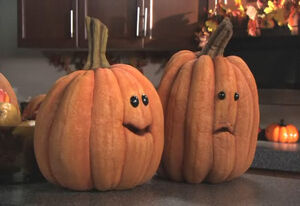 For the Anything Muppets pattern, see Pumpkin.
A pair of Pumpkins attempt to elude becoming pies in a Haunted Holidays sketch.
A talking pumpkin appears in A Magical Halloween Adventure performed by David Rudman. He talks about what to do with pumpkins and show a film about two kids, Jared and Chase, carving and painting pumpkins with their parents to Elmo, Telly, and Zoe.
In an introductory video on Sesamestreet.org for Halloween, Zoe dressed up as a Pumpkin for a segment. In the eBook 100th Day of School, Abby Cadabby dubs Crunchy Pumpkin-Ohs as the "all-time best cereal".
Prairie Dawn interviews the pumpkin from Cinderella, the beans from Jack and the Beanstalk, and the apple from Snow White in an episode of "Fairy Tales Today." (First: Episode 3382)
See also