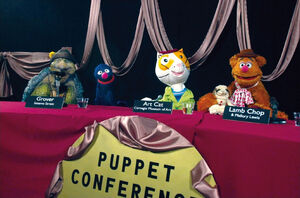 "Puppet Conference" is a 2003 exhibit video produced by German video artist Christian Jankowski for the Carnegie Museum of Art in Pittsburgh in January 2003.
The 30-minute video features Lamb Chop (and Mallory Lewis), Grover (Sesame Street), Fozzie Bear (The Muppet Show), Mr. Leonard Spencer Shelby (The Magic Woods), and Art Cat (the museum's mascot and host of the event) holding a mock puppet conference. Additionally, the video features cameo appearances by the Sock Puppet and Elmo, who shows off the crew on the Sesame Street set. The video also features a filmed report by Telly Monster from the 2002 Sesame Street float in the Macy's Thanksgiving Day Parade.
The video was conceived by Jankowski and was screened in the Carnegie Museum of Art's forum gallery from January 24 through April 27, 2003.
The puppets gathered to discuss their identity, the relationship with their puppeteers and their producers, their role as mascots and TV personalities, and their educational mission. The light-hearted script touched on such serious topics as nature, commercialism, education, the mass media as art, and prejudice.
"[It was] an honor to be working with Grover, and Fozzie Bear. In fact, it was, well, titillating. They're so cute. Actually, I've got the hots for Fozzie Bear."
—Lamb Chop
"Deep down inside, no matter where we are from, and no matter if we have skin, or fur, or feathers, we are all one great big family."
—Grover
Special thanks is given in the end credits to the Jim Henson Company, Sesame Workshop, Kevin Clash, Martin P. Robinson, Eric Jacobson, Jim Martin, Lara MacLean, Jim Lewis and Joey Mazzarino.
External links
Community content is available under
CC-BY-SA
unless otherwise noted.