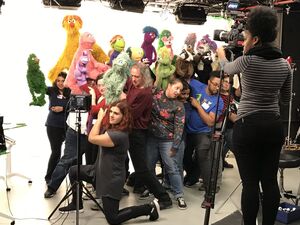 A puppet captain is a supervisory role for any production (television, film, or stage) involving puppets. In the context of The Muppets and Sesame Street, the title has often been referred to as Muppet captain or Muppet coordinator.
For Sesame Street, the puppet captain is present in all production meetings discussing with crew members how certain scenes involving Muppets are shot, and what props, costumes, and sets need to be built. They are also present on days of filming to help with any problems that could arise on-set, and review the resulting footage during the editing process to ensure that the puppetry looks good. The puppet captain is also responsible for casting performers, which encompasses one-shot/background roles and right-hands, and recruits select new puppeteers as part of the show's mentorship program which began in 2017.
The earliest known use of such a title for a Henson production was Labyrinth, crediting Brian Henson as puppet co-ordinator and Kevin Clash as assistant co-ordinator. By 1991, Clash became the long-standing Muppet captain for Sesame Street and related projects. Bill Barretta has been puppet captain for most Muppets productions beginning with Muppets from Space. An article, written at the time of 2011's The Muppets, elaborates on Barretta's duties as "checking sightlines, positioning monitors, tweaking costumes."
Assistant Muppet captains for Sesame have included Matt Vogel, starting in 2008 and replacing Clash as lead Muppet captain after the latter's resignation in 2012, and Martin P. Robinson since the late 2010s. Kathryn Mullen served as puppet captain on the first season of The Wubbulous World of Dr. Seuss. John Kennedy filled the role in season two of the series and on Kermit's Swamp Years.
Sources
Stamberg, Susan. WAMU, "For Muppeteers, It Isn't Easy Being Invisible", November 21, 2011
Vogel, Matt. Under The Puppet, episode #50, July 31, 2020
Vogel, Matt. Below The Frame with Matt Vogel, episode #17: Sesame Street Mentees, November 25, 2020