Puppets for Puppetry is a fundraising event held by the Center for Puppetry Arts. The events have honored long-standing Muppet performers with live performances, tributes and special guests. These events have been held on the Jim Henson Company's lot at Charlie Chaplin Studios.
2016
The 2016 fundraiser, held on September 24, honored Dave Goelz.[1]
In attendance to pay tribute to friend and colleague Goelz were host John Tartaglia, Brian Henson, Lisa Henson, Cheryl Henson, Heather Henson, Karen Prell, Bill Barretta, Leslie Carrara-Rudolph, Kevin Clash, Alice Dinnean, and Drew Massey, while Frank Oz, Matt Vogel, and Kermit the Frog appeared via pre-recorded video.
2018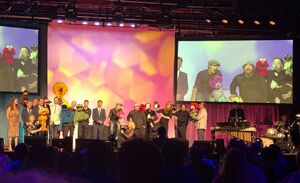 The 2018 event was held on May 5, honoring Caroll Spinney.
The event was hosted by Chris Hardwick and featured special guests Bobby Moynihan, Jack McBrayer, and Jason Mraz.[2]
The evening featured appearances by several Sesame Street Muppets including Big Bird, Oscar the Grouch, Cookie Monster, Count von Count, Elmo, Zoe, Abby Cadabby, some penguins, a clown (to represent Spinney's time on Bozo the Clown), and a Jim Henson Muppet made from an Orange Gold Anything Muppet (performed by Eric Jacobson during the show and Brian Henson during the finale).
2020
The 2020 event was scheduled for May 9, honoring Brian and Wendy Froud, but has been postponed due to COVID-19.
The event will be written and directed by John Tartaglia.[3]
See also
Sources
↑ PR Newswire "The Jim Henson Company Hosts, "Puppets For Puppetry" Fundraiser to Honor The Esteemed Puppeteer Dave Goelz on September 24, 2016" Aug 23, 2016
↑ ""Puppets For Puppetry" Benefit on Saturday, May 5, 2018 Hosted by Chris Hardwick, With Special Guests Jack McBrayer, Bobby Moynihan, and Musical Guest Jason Mraz", Cison PR Newswire, April 20, 2018.
↑ "Center for Puppetry Arts Presents The Third "Puppets for Puppetry" Benefit Stage Show and Dinner Saturday, May 9, 2020 Honoring Brian and Wendy Froud, Popular Designers and Artists of The Dark Crystal, Labyrinth, and More", The Jim Henson Company Press Release, February 18, 2020.
External links
Community content is available under
CC-BY-SA
unless otherwise noted.