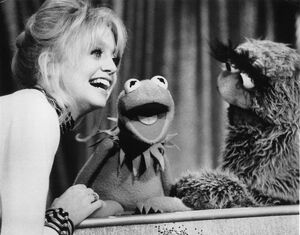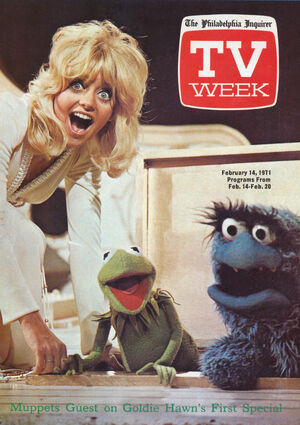 Pure Goldie is a TV special that aired on NBC on February 15, 1971 featuring Goldie Hawn, with guests Ruth Buzzi, Johnny Carson, Bob Dishy, and the Muppets.
Following a dance number by Goldie, Kermit the Frog and Beautiful Day Monster (performed by Frank Oz, who refers to the frog as "ol' buddy, ol' pal") discuss her. Kermit finds her cute and believes she feels the same, citing an after-rehearsal dinner where she cried at the sight of frogs legs. The monster puts it bluntly - Goldie would never love a frog. Kermit calls Goldie over and asks her favorite color: yellow. Kermit launches into "Bein' Green" with Hawn. Hawn kisses Kermit, and instead of Kermit turning into a handsome prince, she turns into a Muppet. Buzzi and Dishy also turn into Muppets (represented by Droop and Snivelly) when they each try to remedy Hawn with their own kiss. They finish the sketch the only way they know how, by singing "Mah Na Mah Na".
A clip from the special is featured in the 1994 PBS documentary The World of Jim Henson. The program is available for viewing in its entirety at the Paley Center for Media.
Credits
External links
Community content is available under
CC-BY-SA
unless otherwise noted.