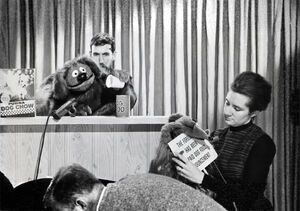 In late 1962, Jim Henson was hired to produce a series of Purina Dog Chow commercials for the Canadian market. Henson created Rowlf the Dog and Baskerville the Hound specially for the ads, and they were the first Muppets built by Don Sahlin. Seven spots were produced -- three 60-second ads, and four product IDs.
According to Jim Henson: The Biography, "Bernie Brillstein later recalled - though he was never certain if the offer came from Purina or another client - that Jim was offered $100,000 for the company to own Rowlf outright. Brillstein nearly lept at the offer, but Jim immediately squashed the deal. "Bernie", warned Jim, "never sell anything I own.""[1]
Four commercials were included as bonus features in The Muppet Show: Season Three DVD set.
In the Sesame Street movie Follow That Bird, Big Bird stops his trek from Oceanview, Illinois at a Purina Chows plant, where he persuades a turkey truck driver (played by Waylon Jennings) to give him a lift.
Sources
Community content is available under
CC-BY-SA
unless otherwise noted.