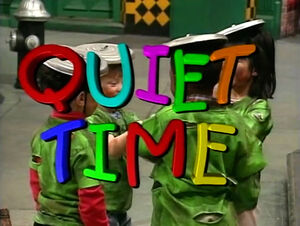 Quiet Time is a 1997 Sesame Street video in which Big Bird wants to find out what to do at "quiet time." He asks his friends for suggestions, which include reading, drawing, and napping. A countdown of the Top Ten quiet time ideas appear periodically (announced by David Rudman) on a Campbell's Soup can, including such ideas as "Practice your giraffe imitation."
Segments
Image
Segment
Description




FRAME 1
Big Bird welcomes the viewer and talks about a problem he's having. Granny Bird had just told him that it's "quiet time," but he doesn't know what to do. Rosita offers to bring a book of quiet time suggestions. Conversely, Oscar's idea of quiet time is singing "I Heard My Dog Bark" with Grundgetta and the Grouchketeers, which isn't what Big Bird had in mind.

Muppets
The Two-Headed Monster observes the letter Q, then the word "Quiet."
(First: Episode 1850)

FRAME 2
Zoe suggests playing an imagination game. Big Bird and Zoe pretend that they're driving to the car wash, until Zoe imagines her mommy calling her for lunch and leaves.




FRAME 3
Telly suggests reading his book, The Man Who Couldn't Sleep. In this fairy tale, a man (played by Telly) can't sleep because of the wind and rustling leaves. He seeks the counsel of the Wise Man whose counsel involves bringing in a cow, a turkey, and a sheep. When the man finally rids his house of the noisy animals, the wind and the trees no longer bother him and he can sleep at last.

Cartoon
Jerry Nelson sings "In My Book."
(First: Episode 2983)

Cartoon
Suzie Kabloozie imagines she's a pirate, with the help of a book.
(First: Episode 3460)

FRAME 4
In the park, Big Bird meets Daphne Rubin-Vega, who sings "Quiet Things" to him about how silence and quiet can be soothing and fun. Clips of children, animals, and rivers are interspersed.

FRAME 5
Big Bird continues his survey at the stoop, asking Ernie if he has ideas for quiet time. Ernie admits that he's not in a quiet time mood. He goes to the apartment to ask Bert to play.

Muppets
Ernie and Bert perform "Naptime." This newly taped sequence features the puppeteers lip-syncing to the original track from the album What Time Is It on Sesame Street?.

FRAME 6
Big Bird decides to take a nap when Rosita returns to find him asleep. She finds that Big Bird has already tried all of the suggestions in her book, except for napping.

Muppets
Kermit the Frog sings "When I Listen".
(First: Episode 1760)
(edited)

FRAME 7
Big Bird sings about all the quiet things one can do. As the credits roll, he reveals a picture he drew of himself and Telly (art by Caroll Spinney).
Releases
Cast
Starring Jim Henson's Sesame Street Muppets:

Caroll Spinney as Big Bird and Oscar
with Muppet Performers: Martin P. Robinson, Kevin Clash, Fran Brill, Joey Mazzarino, Carmen Osbahr, Pam Arciero, Noel MacNeal, Jim Martin, Matt Vogel, Steve Whitmire, Richard Hunt, Jerry Nelson, Frank Oz, and Jim Henson
Special Guest Star: Daphne Rubin-Vega
Child Talent: Saman Rouhani, Megan Willis, Carisse Elizabeth Moy, Jamari Richardson
Credits