PERFORMER
various
DEBUT
1978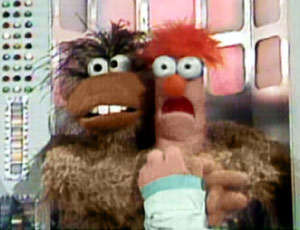 Quongo the Wild Mountain Gorilla was created for The Muppet Show episode 219, where Dr. Bunsen Honeydew teleported him back from Africa with a startled Kermit. He's referred to by Kermit as a chimp after the opening number in episode 324, but he's named properly in episode 509 where he was booked to wrestle Gonzo. He was performed by Richard Hunt in that episode.
In his featured performances on The Muppet Show, he was primarily performed by Jerry Nelson, although not always using the same voice. He sings "It's Lonely at the Top" for the UK spot of episode 403 atop the Empire State Building, and "I've Got a Lovely Bunch of Coconuts" at a carnival in the UK spot for episode 513.
He appears in the cold opening for episode 311, joining the crowd of Muppets urging Raquel Welch to keep her sexpot image, and can also be seen in episode 320 throwing coconuts during "Hawaiian War Chant."
He's played by Frank Oz in the Muppet Meeting Film "The Five Basic Rules of Selling" where he got into a struggle with Leo. In "The Muppets Go Hawaiian" View-Master set, he hitches a ride with the Muppets in Kermit's dream vacation.
Quongo was among the dozens of Muppets in the audience seen in the intro of Muppets Tonight. The original puppet, along with a few other monkey puppets following the same design made sporadic appearances on the show. His puppet was later used for Miss Corner in Mopatop's Shop episode "Nowhere for a Square," in "The Big Bicycle Race" as Mansell Monkey, and in background and group scenes in the films The Muppets and Muppets Most Wanted.
Filmography
Book appearances