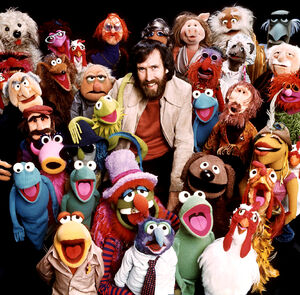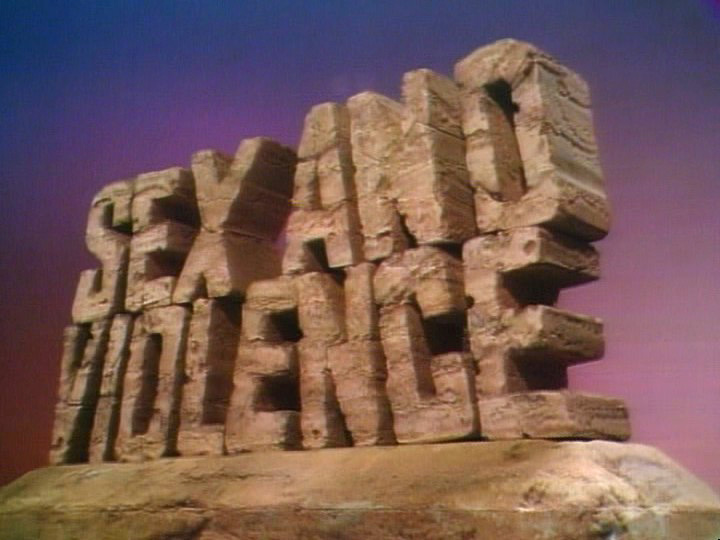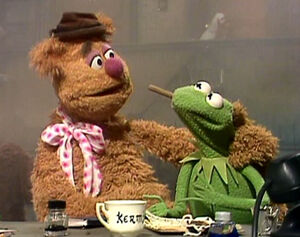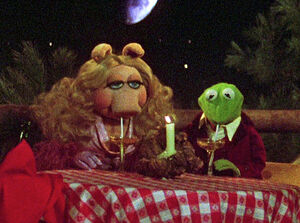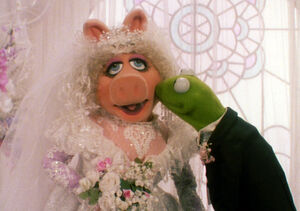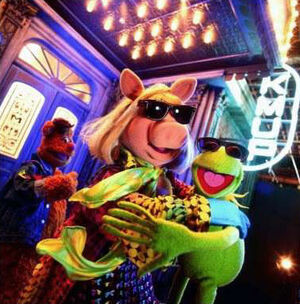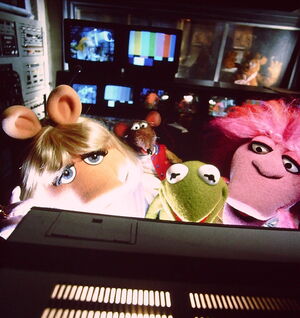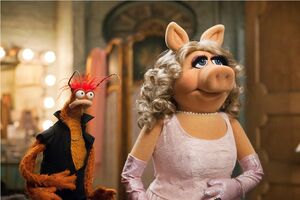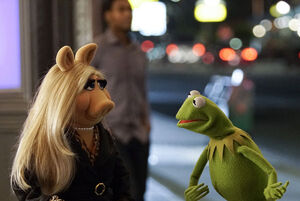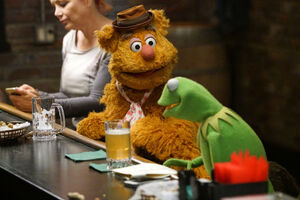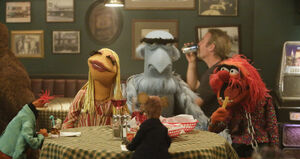 The success of Sesame Street was a mixed-blessing for Jim Henson as it established the Muppets, and Jim Henson, as children's entertainment. Henson's career had always been geared toward family and adult audiences and suddenly he was labeled the number one performer for kids. Henson continued to struggle to gain acceptance for the Muppets as adult-oriented, not just children's, entertainment.
Henson commented: "It's something I've always faced, this slight condescension toward puppets.... It's always been practically impossible to talk the networks into any kind of puppet show for adults. We're never thought of for prime time. It's always a vehicle for kids."[1]
Author/illusrator Maurice Sendak sympathized with Henson's sense of being labeled as only one kind of artist. Said Sendak, "Because all artists are pigeon-holed, everybody, whatever they do for a living, they're pigeon-holed.... He agreed with me about the frustration and it hurt him very much."[2]
Quotes
"

It's odd, because we're really not kid-oriented. About 95 percent of all the things I've ever done [have] been for adults.

"


—Jim Henson, undated[3]
"

What I'm against is people's thinking puppets are exclusively for children. We've directed our work mostly towards adults, and historically puppets have often been for adults. It's only fairly recently that puppets have been pushed into strictly children's areas. As a theater form, puppetry can do virtually anything.

"


—Jim Henson, 1969[4]
"

We've been able to put together in the script all the elements of the Muppets we've wanted to for many years. A lot of our work has always been adult-oriented, so we'll be working a lot with those aspects of the Muppets. Through this pilot, we hope to be able to demonstrate that puppetry can be very solid adult entertainment.

"


—Jim Henson on the pilot for The Muppet show, 1974[5]
"

Puppetry is labelled a children's form, but we're writing for adult sensibilities. The total works for the whole audience. You can be adult without being offensive to children."

"


—Jim Henson, 1990[6]
"

There was a bit of irony in the fact that suddenly in 1969, [Jim Henson] became associated with the greatest children's hit in the history of television. Puppeteers, traditionally, are always, certainly in this society, automatically pigeon-holed as children's performers. And it was exactly what Jim didn't want.

"


—Jerry Juhl, 1994[2]
"

Jim would pound on the desk and say, 'We are not doing children's puppetry here!' Because in the late 1950s, when he got in, puppets were for kids. He wanted to make puppetry for adults. He was always obsessed with breaking new ground.

"


—Jerry Juhl, 1996[7]
"

I think he was frustrated because he was saying, "Well, hang on, the Muppets... we've been performing in Las Vegas and doing The Ed Sullivan Show... This was the only kids' show we did! Just because it was a big hit doesn't mean that's all we can do, that's not what we ever were."

"


—Brian Henson, 1999[8]
"

Because of Sesame Street people thought of [Jim Henson] as a children's performer. It was sort of odd for him because he was until then an adult performer.

"


—Brian Henson, 2006[9]
"

My dad [Jim Henson] really believed in community and sweetness, but the other side of him was incredibly naughty. He always said the only reason we did this was those moments where it is like laughing in church. It becomes so infectious you cannot stop laughing.

"


—Brian Henson, 2006[10]
"

My dad [Jim Henson] first started with adult-minded comedies very early on. He also worked in an era where most of the airwaves were highly censored. But he was always a very naughty, irreverent performer.

"


—Brian Henson, 2007[11]
"

A lot of people don't realize that Jim [Henson]'s very very earliest works were not intended for children.

"


—Nicole Goldman, 2007[12]
"

My dad [Jim Henson] was a very, very irreverent guy, and when he started in the late 1950s it was in adult comedy. He had a very naughty streak to him.

"


—Brian Henson, 2007[13]
"

The Muppets were quaint and charming in the 70's because they were doing riffs on 70's style variety shows. One of my concerns—which was my concern and not necessarily the company's—was something that Jim [Henson] and I even discussed once: The Muppets are not Sesame Street. They are not meant to be a kid-franchise. They are meant to be kid-friendly, but not geared exclusively to kids. A good example would be The Muppet Show pilot episode was named Sex and Violence and was supposed to be a fun and satirical show that could steer any audience in society and not just tell warm fuzzy stories about a pig trying to marry a frog. People like that, but even Mickey Mouse started out as a bit of a jerk in those old Mickey shorts playing pranks on people. It seems as characters start becoming more beloved, you tend to start writing more softer stories for them and that was one of the reasons why Pepe the King Prawn was created, I kept saying "we need our Daffy Duck."

"


—Kirk Thatcher, 2015[14]
"

I felt the need to make sure they didn't become Sesame Street, and was a curse that we've been fighting since before I joined the company. I always thought the Muppets were really funny similar to the Monty Python troupe, and they weren't a kid's show, which is something that played out strangely when Muppets Tonight won an Emmy for 'Best Children's Programming' which kind of felt like a double-edged sword. It was kind of like 'great work, you won an Emmy' but it was for the exact thing we were trying to work against. So I think that's where the edginess comes from. Jim himself had a pretty wild sense of humor, and it wasn't ever intended for the Muppets to be 'safe' and the whole point is that they weren't always "safe."

"


—Kirk Thatcher, 2015[14]
"

Jim was very reluctant at first [to do Sesame Street] because he was concerned that he would be trapped as a little children's producer.... I said, "Trust me, Jim, it's just around the corner, you're not gonna be stuck in little kiddie entertainment."

"


—Joan Ganz Cooney, 2015[15]
"

Jim had to fight against this stereotype of "Muppets are children's things." He had to fight that battle constantly.

"


—Don Mischer, 2015[15]
"

He [Jim Henson] had a heck of a time convincing the world to let him do The Muppet Show, and he felt like Sesame Street had pigeonholed him. And it was very frustrating to him.

"


—Brian Henson, 2015[15]
"

Rightfully or wrongfully, the Muppets became more of a kids' product over the years. We want to bring them all the way back to what they were intended to be and then some. But never so much that anyone has to explain anything uncomfortable to their kids.

"


—Bob Kushell, 2015[16]
"

Some people think The Muppets are for children. Nope. I never once had the kids in mind when I performed. I mean, what's the difference between performing for kids and performing for adults, anyway? We were adults and we had fun performing as adults. And the kids got it.

"


—Frank Oz, 2018[17]
"

Unfortunately, what's happened is– in much of the [new] material that I've seen– they are saying it's for kids, and they talk down. And so, unfortunately, I think they see it as limited to one [audience], and we never have been. If we were limited, we wouldn't have had such success. I think it's probably easy for people to just say they're for kids. It's harder to make them complex like Jim did.

"


—Frank Oz, 2018[18]
Notes
A September 20, 2015 article from the New York Daily News by David Hinckley credits Jim Henson in 1983 saying "I want Muppets stories to address things my friends and I are interested in. I never saw them as kiddie characters."[19] Muppet Wiki has not been able to verify the source of this quote.
As a point of contrast between the two shows, characters on The Muppet Show referenced Sesame Street as a show for kids, on occasion. In episode 318, Piggy asks Big Bird if Sesame Street is "that cute little children's show with puppets."
In both The Muppet Christmas Carol and Muppet Treasure Island, Rizzo the Rat expressed concern over any potential kids in the audience. In The Muppet Christmas Carol he remarks "Whoa, that's scary stuff. Should we be worried about the kids in the audience?," to which Gonzo (as Charles Dickens) replies "Nah, that's all right. This is culture!" In Muppet Treasure Island, Rizzo comments on the death of Billy Bones saying "He died? And this is supposed to be a kids' movie?!?"
At a panel on the second day of MuppetFest, Brian Henson commented that when Muppets Tonight started, ABC promised to do a big marketing campaign to "reposition" the Muppets as adult characters, however they didn't follow through. The show was marketed mainly as a kid's show. When they did focus groups, they confirmed that the show was too sophisticated for 2-3 year-olds. Starting at four, kids thought it was Sesame Street, and they thought they were too old for it. 11-15 year-olds thought it was a really good show, but they don't watch that much TV. Parents thought it was just Sesame Street. Critically, the show did very well, but it wasn't marketed well, and it didn't do well in the ratings.
See also
External links
Sources