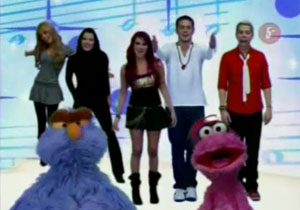 RBD was a Latin Grammy nominated Mexican pop group that debuted in 2004. They gained popularity from Televisa's teenage-oriented telenovela, Rebelde. The group's members were Christian Chávez, Alfonso Herrera, Dulce María, Maite Perroni, Anahí, and Christopher Uckermann.
The group, excluding Herrera, appeared on Plaza Sésamo in 2008, singing "Una Pequeña Voz" with the Sésamo cast.
The group broke up in 2009. Since then, Herrera and Perroni have pursued careers in television, while Chávez played the main puppet characters Eugenio (Princeton) and Rodri (Rod) in the Mexican stage production of the Broadway musical Avenue Q. Anahí, María, and Uckermann are pursuing their solo music careers.