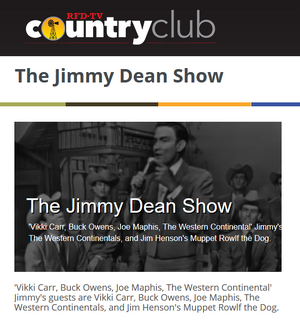 RFD-TV is a television and radio network from Omaha, Nebraska. Launched in 2000, their programming specializes in serving the "needs and interests of rural America".[1]
In 2017, RFD acquired the broadcast rights to The Jimmy Dean Show, airing episodes from the series in high definition for the first time. Beginning with the episode originally aired on September 26, 1963 as the second in the series, RFD has broadcast a majority of the original 86-episode run, 85 of which feature Jim Henson as Rowlf the Dog in the Muppets' first rise to national fame.
The network aired episodes out of chronological sequence, and assigned a season and episode number based on their own schedule. The following table correlates the guide from RFD's "Country Club" subscription service with the authentic episode numbers associated with the original 1963 to 1966 broadcast order. The online listing does not account for several episodes: 101, 107, 205, 207, 220, 224, 314, 326 (110 and 215 were broadcast by RFD, but do not appear on the streaming site). RFD's re-numbered "S-3, E-24" and "S-3, E-26" are scheduled to air in 2019; the remaining 8 episodes are not licensed for broadcast by RFD.[2]
| Episode | RFD's date | RFD's no. | RFD's description |
| --- | --- | --- | --- |
| 102 | January 01, 2017 | S-1, E-01 ▶️ | Rosemary Clooney, Al Hirt, Roy Clark |
| 116 | January 08, 2017 | S-1, E-02 ▶️ | Chet Atkins, Molly Bee, Homer and Jethro, Don Adams |
| 117 | January 15, 2017 | S-1, E-03 ▶️ | Jane Morgan, Johnny Tillotson, George Kirby, Buck Owens, Smitty & The Virginians |
| 118 | January 21, 2017 | S-1, E-04 ▶️ | Johnny Cash, Boots Randolph, Grandpa Jones |
| 119 | January 29, 2017 | S-1, E-05 ▶️ | Patti Page, Ferlin Huskey, Grandpa Jones, Wade Ray, The Four Cuties |
| 104 | February 04, 2017 | S-1, E-06 ▶️ | McGuire Sisters, Jack E. Leonard, Ron Martin, Stuart Hamblen |
| 120 | February 12, 2017 | S-1, E-07 ▶️ | Eydie Gorme, George Jones, Don Adams |
| 121 | February 19, 2017 | S-1, E-08 ▶️ | Julius LaRosa, Skeeter Davis, George Kirby, Lassie, Toots Thielemans |
| 122 | February 26, 2017 | S-1, E-09 ▶️ | Eddy Arnold, Corbett Monica, Molly Bee, Buck Owens, Smitty & The Virginians |
| 123 | March 05, 2017 | S-1, E-10 ▶️ | Dorothy Collins, Boots Randolph, Hank Williams Jr. |
| 124 | March 12, 2017 | S-1, E-11 ▶️ | Buck Owens, Molly Bee, Don Adams, Pat McCormick |
| 125 | March 19, 2017 | S-1, E-12 ▶️ | Johnny Tillotson, Molly Bee, Homer and Jethro, The Four Cuties |
| 126 | March 26, 2017 | S-1, E-13 ▶️ | Jack Jones, Hank Snow, Professor Backwards, Toots Thielemans, Four Cuties from Hackensack |
| 127 | April 02, 2017 | S-1, E-14 ▶️ | Eydie Gorme, Jim Reeves, Don Adams, Pat McCormick, Buck Owens, Smitty & The Virginians |
| 128 | April 09, 2017 | S-1, E-15 ▶️ | Hank Thompson, Molly Bee, Roy Clark, Eagle and Man |
| 129 | April 16, 2017 | S-1, E-16 ▶️ | Vikki Carr, Carl Smith, Milt Kamen |
| 130 | April 22, 2017 | S-1, E-17 ▶️ | Buck Owens, Molly Bee, Don Adams, Toots Thielemans, Pat McCormick |
| 105 | April 29, 2017 | S-1, E-18 ▶️ | Art Carney, Patrice Munsel, Dukes of Dixieland, Ron Martin |
| 106 | May 07, 2017 | S-1, E-19 ▶️ | Jane Morgan, Mimi Hines & Phil Ford, The Jubilee Four, Ron Martin |
| 108 | May 14, 2017 | S-1, E-20 ▶️ | Jo Stafford, Jubilee Four, Elston Howard, TN Gov. Frank Clement, Don Adams, Pat McCormick, Ron Martin |
| 109 | May 21, 2017 | S-1, E-21 ▶️ | Red Buttons, Jerry Vale, Molly Bee, The Crum Bros |
| 111 | May 27, 2017 | S-1, E-22 ▶️ | The McGuire Sisters, The Jubliee Four, The Crum Bros, Don Adams |
| 112 | June 04, 2017 | S-1, E-23 ▶️ | Eddy Arnold, Molly Bee, Allan Sherman, Lud & Lester |
| 113 | June 11, 2017 | S-1, E-24 ▶️ | Jack Carter, Homer and Jethro, Molly Bee |
| 114 | June 18, 2017 | S-1, E-25 ▶️ | George Gobel, Anna Moffo, Buck Owens, The Jubilee Four |
| 115 | June 25, 2017 | S-1, E-26 ▶️ | Patty Duke, Tex Ritter, The Jubilee Four, Jackie Mason, Lassie |
| 218 | July 01, 2017 | S-2, E-01 ▶️ | Buck Owens and The Mills Brothers |
| 219 | July 09, 2017 | S-2, E-02 ▶️ | Jack Jones, Rex Allen, Toots Thielemans, Nudie |
| 221 | July 17, 2017 | S-2, E-03 ▶️ | Vikki Carr, Johnny Tillotson, Henny Youngman |
| 222 | July 26, 2017 | S-2, E-04 ▶️ | Carl Smith and Della Rae, Phil Ford & Mimi Hines, Della Rae |
| 223 | July 30, 2017 | S-2, E-05 ▶️ | Louise O'Brien, Sonny James, and The Village Stompers |
| 225 | August 06, 2017 | S-2, E-06 ▶️ | Eddy Arnold, Kay Starr, Norm Crosby, The Village Stompers, Florida Citrus Queen |
| 226 | August 13, 2017 | S-2, E-07 ▶️ | Chet Atkins, Julie Rogers, Cliff Arquette (as Charley Weaver), Floyd Cramer |
| 227 | August 20, 2017 | S-2, E-08 ▶️ | Leo Durocher, Gene Pitney, George Jones, Molly Bee |
| 228 | August 27, 2017 | S-2, E-09 ▶️ | June Valli, Porter Wagoner, Adam Keefe, Rich Richelieu |
| 229 | September 03, 2017 | S-2, E-10 ▶️ | Boots Randolph, Elton Britt |
| 230 | September 10, 2017 | S-2, E-11 ▶️ | Roy Clark, Judy Lynn, Rex Allen |
| 201 | September 17, 2017 | S-2, E-12 ▶️ | Roger Miller, Don Adams, Molly Bee |
| 202 | September 24, 2017 | S-2, E-13 ▶️ | Buck Owens, Molly Bee, Charlie Callas |
| 203 | October 01, 2017 | S-2, E-14 ▶️ | Vikki Carr, Roy Drusky, Pete Drake, Al Kelly |
| 204 | October 08, 2017 | S-2, E-15 ▶️ | Bobby Vinton, Homer and Jethro, Molly Bee, Toots Thielemans |
| 216 | October 15, 2017 | S-2, E-16 ▶️ | Bobby Rydell, Roger Miller, Minnie Pearl, The Levee Singers |
| 206 | October 22, 2017 | S-2, E-17 ▶️ | Sheb Wooley, Connie Smith, The Stoneman Family, Professor Irwin |
| 217 | October 29, 2017 | S-2, E-18 ▶️ | Jane Morgan, Eddy Arnold, Roy Clark, Abe Weatherwise (Farmer's Almanac) |
| 208 | November 04, 2017 | S-2, E-19 ▶️ | Eddy Arnold, Dottie West, Chet Atkins, Ernest Tubb, Flatt and Scruggs, and The Jordainaires |
| 103 | November 11, 2017 | S-2, E-20 ▶️ | Roy Clark, Milt Kamen, Broadway's Karen Morrow |
| 209 | November 18, 2017 | S-2, E-21 ▶️ | Jerry Vale, Carmel Quinn, Buck & Smitty, and The Virginians |
| 210 | November 25, 2017 | S-2, E-22 ▶️ | Johnny Cash, Floyd Cramer, and Molly Bee |
| 211 | December 02, 2017 | S-2, E-23 ▶️ | Eileen Farrell, Charlie Rich, and Faron Young |
| 212 | December 09, 2017 | S-2, E-24 ▶️ | Teresa Brewer, Ferlin Husky |
| 213 | December 16, 2017 | S-2, E-25 ▶️ | Molly Bee, Boots Randolph, George Kirby |
| 214 | December 23, 2017 | S-2, E-26 ▶️ | Porter Wagoner, Jerry Vale, The Quinto Sisters, Garry, Connie & Robert Dean |
| 303 | January 06, 2018 | S-3, E-01 ▶️ | Jane Morgan, Bill Anderson, The Geezinslaw Brothers, Will Jordan |
| 316 | January 13, 2018 | S-3, E-02 ▶️ | Roy Acuff, Flatt and Scruggs, George Hamilton, Sonny James, Carl Smith, Hank Snow, Kitty Wells, Dottie West, Faron Young |
| 317 | January 21, 2018 | S-3, E-03 ▶️ | Pearl Bailey, Buck Owens, Wilma Bridges, Cliff Arquette |
| 318 | January 27, 2018 | S-3, E-04 ▶️ | The Everly Brothers, Jody Miller, Lloyd Green, Fran Allison |
| 302 | February 03, 2018 | S-3, E-05 ▶️ | Ernest Tubb, John Davidson, Jody Miller, Leon Rhodes, Corbett Monica |
| 319 | February 10, 2018 | S-3, E-06 ▶️ | The Andrews Sisters, Billy Grammer, SSgt. Barry Sadler |
| 320 | February 17, 2018 | S-3, E-07 ▶️ | Molly Bee, Roy Clark, Japanese Grand Ole Opry, Jerry Caterino |
| 321 | February 24, 2018 | S-3, E-08 ▶️ | The Brown Family, Peggy Paxton, Warner Mack, Elton Britt, Tex Williams, & George Carlin |
| 322 | March 03, 2018 | S-3, E-09 ▶️ | Al Martino, Don Gibson, Sharon Carnes, The Statesmen Quartet |
| 323 | March 10, 2018 | S-3, E-10 ▶️ | Roberta Sherwood, Boots Randolph, Marvin Laird |
| 324 | March 17, 2018 | S-3, E-11 ▶️ | Margie Bowes, Loraine Lee, George Carlin, Maury Wills, Jim Mudcat Grant |
| 325 | March 24, 2018 | S-3, E-12 ▶️ | Jerry Vale, George Jones, Billy Grammer |
| 301 | March 31, 2018 | S-3, E-13 ▶️ | Eddy Arnold, Gene Pitney, Buck Owens, Connie Smith, Linda Gayle |
| 304 | April 07, 2018 | S-3, E-14 ▶️ | Bobby Vinton, Jody Miller, Don Gibson, The Geezinslaw Brothers |
| 305 | April 14, 2018 | S-3, E-15 ▶️ | Johnny Tillotson, Molly Bee, Buck & Smitty, The Virginians, Toots Thielemans |
| 306 | April 21, 2018 | S-3, E-16 ▶️ | 1965 Billboard Country Music Awards, Roy Acuff, Buck Owens, Minnie Pearl, Roy Drusky, Del Reeves, Norma Jean |
| 307 | April 28, 2018 | S-3, E-17 ▶️ | Arthur Godfrey, Sharon Carnes, Bobby Bare, The Geezinslaw Brothers, Fran Allison |
| 308 | May 05, 2018 | S-3, E-18 ▶️ | John Davidson, Del Reeves, Eddie Peabody, Molly Bee |
| 309 | May 12, 2018 | S-3, E-19 ▶️ | Forrest Tucker, Jody Miller, Homer and Jethro |
| 310 | May 19, 2018 | S-3, E-20 ▶️ | George Jones, Jimmy Dickens, The Bordermen feat. Chuck Woolery, Cliff Arquette |
| 311 | May 26, 2018 | S-3, E-21 ▶️ | Eileen Farrell, Chet Atkins, Don Gibson, Boots Randolph, Floyd Cramer, Buck & Smitty |
| 312 | June 02, 2018 | S-3, E-22 ▶️ | Joanie Sommers, Jerry Vale, Leroy Van Dyke, Cliff Arquette, Joe Maphis |
| 313 | June 09, 2018 | S-3, E-23 ▶️ | Kay Starr, Joe Maphis, Bobby Rydell, Cliff Arquette, Phil Harris, Lassie |
| 315 | June 23, 2018 | S-3, E-25 ▶️ | Vikki Carr, Buck Owens, Joe Maphis, The Western Continental |
Sources
↑ email communication between RFD and User:Scarecroe