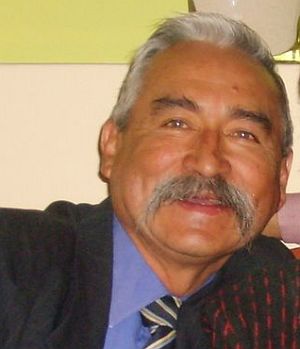 Raúl de la Fuente (b. 1946) is a Mexican voice actor who dubbed Mad Monty in Los Muppets en la Isla del Tesoro (Muppet Treasure Island) and additional voices in Los Muppets y el Mago de Oz (The Muppets Wizard of Oz). He was also heard in the post-Disney-sale redubs of The Muppet Movie and The Great Muppet Caper.
De la Fuente dubbed Italian actor Bud Spencer in several films, as well as Michael Caine in Miss Congeniality, Jonathan Pryce in Stigma, F. Murray Abraham in Finding Forrester, James Cromwell in The Green Mile, Geoffrey Palmer in Peter Pan, Michael Jeter in Air Bud, Gerry Becker in Spider-Man, and narration and title announcements for scores of movies.
In animation, he dubbed Basil of Baker Street in The Great Mouse Detective, Sarge in Toy Story, Owl and the narrator in The Many Adventures of Winnie the Pooh, Kent Mansley in The Iron Giant, and various anime roles (such as narrating Knights of the Zodiac).