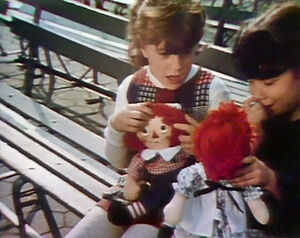 Raggedy Ann is a doll created by Johnny Gruelle in 1915 with red yarn for hair and a triangle nose. Although the character later appeared in books, cartoons, movies, and a Broadway musical, its lasting impression on popular culture is in doll form. Her brother, Raggedy Andy, was later introduced and appears with his sister in many of her adventures.
Raggedy Ann appeared alongside characters from other franchises on the back of the Little Golden Book series with Ernie and Bert, Big Bird, The Poky Little Puppy, Bugs Bunny, Mickey Mouse, Donald Duck, and Bambi.
References
When Hilda suggests that Gonzo is too old for a teddy bear in The Muppet Show episode 102, he wonders if he's emotionally mature enough for a Raggedy Ann doll.
A Sesame Street film about the letter D features two girls playing with Raggedy Ann and Andy dolls. (First: Episode 0367)
A Raggedy Ann and Andy mobile appears over a baby's crib in the Sesame Street song "Brothers Song."
See also
Connections
Sources
Canemaker, John. The Animated Raggedy Ann & Andy. 1977, Bobbs-Merrill.
Community content is available under
CC-BY-SA
unless otherwise noted.