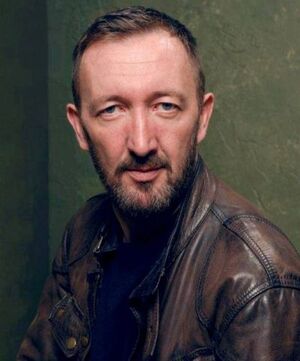 Ralph Ineson (b. 1969) is a British actor, seen mainly in character roles, who voiced The Hunter in The Dark Crystal: Age of Resistance.
In film, Ineson has appeared in a number of high-profile movies and franchises, often in small roles, including the last three Harry Potter films (as Amycus Carrow), The Last Jedi (Senior first order officer), Guardians of the Galaxy (a Ravager pilot), Ready Player One (a larger role, as Rick), From Hell, First Knight, Kingsman: The Secret Service, and the 2010 adaptation of Robin Hood. Less action-tinged films include Is Anybody There? (with Michael Caine) and 2012's Great Expectations (with Ralph Fiennes). One of his few leading roles was in The Witch (2016, with Anya Taylor-Joy).
Ineson recurred on the British version of The Office as the obnoxious Chris "Finchy" Finch and on Coronation Street and was a regular on 2006's Suburban Shootout (as father to Tom Hiddleston). To broader audiences, he spent five episodes on Game of Thrones as Dagmer Cleftjaw and was a regular on the first season of Amazon Prime's Absentia. Guest turns include Sherlock, Goodnight Sweetheart (with Nicholas Lyndhurst), Kavanagh Q.C., Blue Murder, Doctors, The Bill, and Inspector George Gently.
External links
Community content is available under
CC-BY-SA
unless otherwise noted.