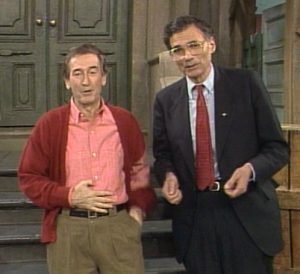 Ralph Nader (b. 1934) is a consumer advocate who ran for President of the United States in 2000. He sang a version of "The People in Your Neighborhood" on The Sesame Street Special with Bob, and also appeared on Sesame Street to advise Big Bird on how to seek a more comfortable nest.
In 1998, however, Ralph Nader and his commercial alert organization criticized Sesame Street and PBS for including commercial sponsorship spots before and after each show: "Sesame Street's step toward commercialism is truly a slippery slope away from its educational status," Nader said. "Sesame Street is not Main Street."[1]
Notes
When Nader appeared on The Sesame Street Special to sing "The People in Your Neighborhood", he insisted on changing the lyrics from "...the people that you meet" to the more grammatically correct, "...the people whom you meet."[2]
Sources
↑ Commercial Alert "Sesame Street Sells Out Children and Parents to Discovery Zone at Start of 30th Season" October 6th, 1998
External links
Community content is available under
CC-BY-SA
unless otherwise noted.