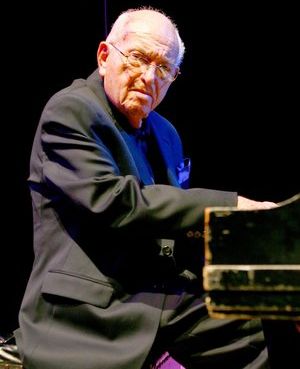 Ralph Sharon (1932-2015) was a jazz pianist who spent much of his career as accompanist and musical director to Tony Bennett.
On episode 106 of Muppets Tonight, Sharon and his trio (consisting of himself, drummer Clayton Cameron, and bassist Douglas Richeson) played back-up off-screen during Bennett's numbers, including for the Muppets Tonight Band members during "Firefly." Sharon played for the accordion player Muppet (sitting in on piano). Sharon also accompanied Bennett on his duets with guests Kermit the Frog and Elmo on the 1998 album The Playground (including "Bein' Green" and "Little Things.")
Sharon was born in England and began his professional career as pianist for bandleader Ted Heath in 1946. That same year, he began performing on BBC radio, usually in quarter hour slots or performing with his own sextet or quintet. He moved to the United States in 1953 and joined Bennett in 1957. Sharon had urged Bennett to use more jazz, and their first recording, the 1957 album The Beat of My Heart (with Chico Hamilton on drums) reflected that. In 1961, it was Sharon who brought Bennett the song "I Left My Heart in San Francisco," which became his trademark. They parted in 1966, reunited in 1979, and remained together until 2002.
External links
Community content is available under
CC-BY-SA
unless otherwise noted.