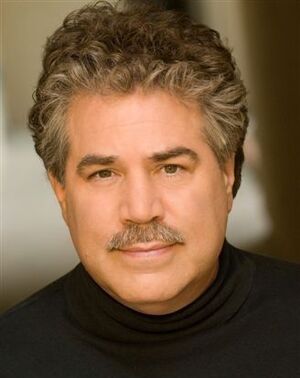 Randy Crenshaw is a session singer and character voice actor who has been heard in several Muppet/Henson projects and albums. He provided backing vocals on the 1992 Dinosaurs album Big Songs. In 1993, he worked on Muppet Beach Party, as a backing vocal arranger on three tracks (including "Kokomo") and performing as one of the Boss Dudes (the chorus of singing beach animals).
For the 2003 Henson Company series Animal Jam, Crenshaw sang on the theme song and featured songs within the episodes. Crenshaw also lent his vocals to the film soundtracks of The Muppet Christmas Carol and the Creature Shop-effects film The Flintstones (singing the famous theme song).
An active session singer since the 1980s, Crenshaw has been heard in hundreds of films, commercials, and TV soundtracks. Specializing in character vocals, and covering a range of musical styles, he has been frequently heard on The Simpsons and on its albums (doing straight singing for Homer and various brief song covers and end credits cues) and Family Guy (as part of the barbershop quartet and other groups). Animated features include Tim Burton's The Nightmare Before Christmas (as Mr. Hyde, Behemoth, and a vampire), Ice Age: The Meltdown (as the lead singing vulture), Don Bluth's Thumbelina (singing for Gilbert Gottfried as Mr. Beetle), The Swan Princess, Flushed Away (singing slugs), The Thief and the Cobbler (singing brigands), and Mickey, Donald, Goofy: The Three Musketeers (singing musketeers, cows, and stage pirates). TV cartoons include the main themes for Animaniacs, Pinky and the Brain, Sylvester & Tweety Mysteries, Freakazoid (theme and character vocals), and Ren & Stimpy ("The Muddy Mudskipper Theme").
On-camera singing performances include The Adventures of Ford Fairlane and episodes of Cop Rock. He looped vocals for Randy Travis in an episode of Touched by an Angel, Adam Sandler in You Don't Mess with the Zohan, and sang for assorted merry men in Robin Hood: Men in Tights. Other film soundtracks include Avatar, Without a Paddle (yodeling), Beetlejuice, Godzilla, King Kong, the Matrix series, and Watchmen. In albums, in addition to backing the likes of Bette Midler, Rosemary Clooney, and Rod Stewart, Crenshaw recorded on two albums by Dinosaurs songwriter Lorraine Feather, was in the chorus on Stan Freberg's The United States of America, Vol. 2, backed Brent Spiner on his Data (and Sinatra) inspired album title Ol' Yellow Eyes Is Back, and worked with Weird Al Yankovic on "Don't Download This Song" and "Stop Forwarding That Crap to Me." Crenshaw also performs as part of the Christian group The Haven Quartet and has played character roles on the radio series Adventures in Odyssey.
External links