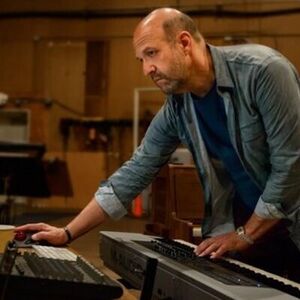 Randy Kerber is a pianist, keyboardist, and orchestrator who performed on the soundtracks of The Muppet Movie (1979) and Muppets Most Wanted (2014). He was also one of the musical arrangers for the 1992 Dinosaurs album Big Songs (again playing keyboards as well).
An active Hollywood session musician since the late 1970s, Kerber has contributed to many film soundtracks. For music adaptation/orchestration on The Color Purple (1985), Kerber shared an Oscar nomination for Best Original Score with Quincy Jones and others. He also orchestrated The Legend of Zorro, X-Men: The Last Stand, The X-Files: I Want to Believe, and The Amazing Spider-Man. His performances as a session musician include Toy Story, Titanic, John Landis's Into the Night (bass synthesizer), Star Wars Episode II and III (keyboard soloist), several Harry Potter films (celesta soloist), Forgetting Sarah Marshall (harpsichord and synth), Lincoln, and The Peanuts Movie. Kerber played piano for Jason Schwartzman (Richard M. Sherman) in Saving Mr. Banks, for Al Pacino as Danny Collins, and did most of the actual piano playing for the Liberace TV biopic Behind the Candelabra.
Outside of film scores, Kerber has worked on recordings by Bette Midler (multiple albums), Kenny Rogers, Jean Pierre Rampal, José Feliciano, Crystal Gayle, Josh Groban, and Barbra Streisand.
External links