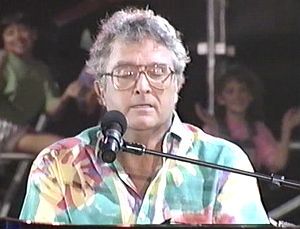 Randy Newman (b. 1943) is an Academy Award-winning songwriter, composer, and singer, whose hits include the single "I Love L.A." Three of his songs were performed on The Muppet Show: "Simon Smith and His Amazing Dancing Bear," "Short People," and "It's Lonely at the Top."
Newman was one of many celebrities featured in the 1991 music video "Yakety Yak - Take It Back," which was seen on Sesame Street. In 1993, he appeared on the Disney Channel concert special For Our Children, performing his own arrangement of "I've Been Working on the Railroad." Co-host Baby Sinclair announced him with little fanfare: "This next guy, he won a Grammy, and an Emmy, and he's already here, so I guess I'd better introduce him."
Newman's other accomplishments include several successful albums, writing and singing the theme to the short-lived musical police drama Cop Rock (garnering an Emmy for his songs in the pilot episode) and scored several Pixar films.
External links
Community content is available under
CC-BY-SA
unless otherwise noted.