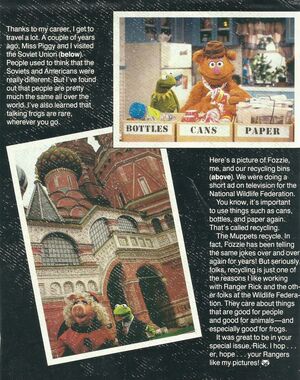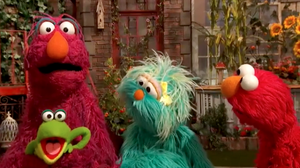 Ranger Rick is a children's wildlife magazine published by the National Wildlife Federation since 1967. The magazine is named after its mascot, a raccoon called Ranger Rick, and encourages an interest not only in animals but in their habitats as well as environmental issues in general.
Appearances
The March 1991 (vol. 25, no. 3) issue focused on frogs, including preserving the species. A four page feature was "My Life" by Kermit the Frog (Kermit's ghost writer goes uncredited). Photos from Kermit's scrapbook (including one from Sam and Friends and in Russia with Miss Piggy) are accompanied by text descriptions. One photo is Kermit and Fozzie Bear recycling from a National Wildlife Federation PSA.
Muppet Mentions
The January 1982 issue (vol. 16, no. 1) focused on the American bald eagle. A "Test Your Eagle Eye" picture quiz asked readers to identify famous eagles, starting with one identified in the answers as "Sam from The Muppet Show."
External links
Community content is available under
CC-BY-SA
unless otherwise noted.