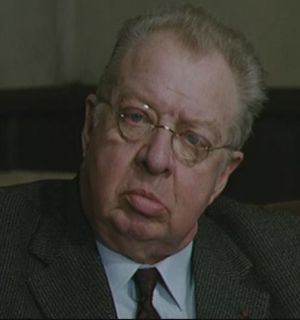 Raoul Delfosse (1924-2009) was a French character actor who voiced Rygel in the French dub of Farscape.
Delfosse began acting in films in the 1950s, often as military officers, policemen, or sailors. His credits include a range of French, British, and internationally co-produced titles, including The Trial (with Anthony Perkins, as a policeman), Charade (with James Coburn), French Connection II (a ship captain), Herbie Goes to Monte Carlo (with Don Knotts, as a police captain), and Hour of the Pig (as Blind George, with Ian Holm, Vincent Grass, and Elizabeth Spriggs).
On TV, Delfosse guest starred on The New Avengers (with Joanna Lumley) and appeared in two installments of the French Maigret series as the director of the police judiciaire. His dub credits included Steven Hill on Law & Order, Ian Abercrombie as Mr. Pitt on Seinfeld, Albert Hague on Fame, King Koopa on Super Mario Brothers, and Grandpa on the animated series Teen Wolf.
External links