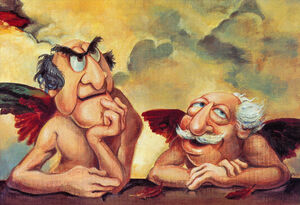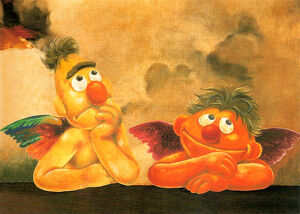 Raphael Sanzio (1483 – 1520) was an Italian painter of the High Renaissance, who along with Leonardo da Vinci and Michelangelo, is considered one of the great masters of the period.
Usually known by his first name alone, his painting "The Sistine Madonna" was parodied in the calendar Muppet Art: 1999 Calendar, with Statler and Waldorf taking on the role of the two angels, and on a German Sesamstrasse postcard from the same year with Bert and Ernie in the same role. The images were also available as posters in Germany.
For The Sesame Street Postcard Book, Ernie had previously struck the familiar pose of one of the angels from "The Sistine Madonna", only this time as Cupid.