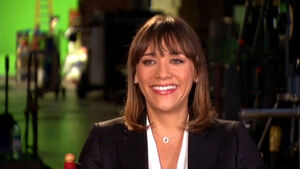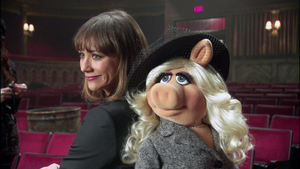 Rashida Jones (b. 1976) is an actress best known for her portrayals of Karen Filippelli on the NBC sitcom The Office (with Steve Carell, John Krasinski, Ed Helms and B. J. Novak) and Ann Perkins on the NBC sitcom Parks and Recreation (with Amy Poehler, Nick Offerman, Aziz Ansari and Adam Scott), and for her roles in the films The Social Network and I Love You, Man. The daughter of musician Quincy Jones and actress Peggy Lipton, she was friends with teenager Michael Jackson as a child.
Jones starred in 2011's The Muppets, playing television executive Veronica.
Aside from acting in the film, Jones also performed Trumpet Girl, whom she unofficially named "Dolores."
Sources