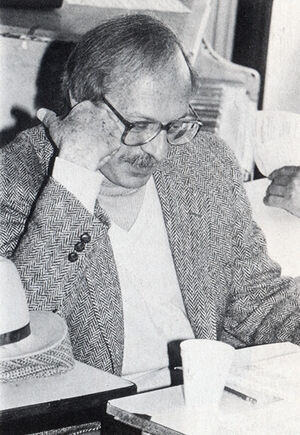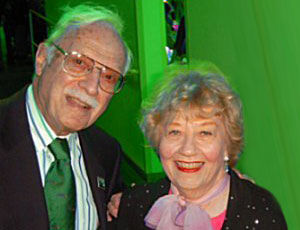 Ray Charles (September 13, 1918 - April 6, 2015), sometimes credited as "The Other Ray Charles" to avoid confusion with the famous soul singer of the same name, replaced Larry Grossman as music consultant in the fourth season of The Muppet Show. He joined the Muppets in England even as he was working as a conductor and arranger for Sha Na Na which was being produced in the United States. Charles had previously worked with Jim Henson when the Muppets guested on Perry Como's Kraft Music Hall in 1965, and The Perry Como Winter Show in 1972.
Charles enjoyed work in show business as a composer-arranger-pianist-singer on several productions, including many as leader of The Ray Charles Singers. Over the years, he has worked with Perry Como, Julie Andrews, Bob Hope, John Denver (including John Denver & the Muppets: A Christmas Together and Rocky Mountain Holiday), Frank Sinatra and several others. Charles's singing voice can be heard performing the Joe Raposo-penned theme song for the sitcom Three's Company.
He said once in an ITC press junket, of working on The Muppet Show, that it was just the kind of program he enjoyed working on: "My forte is material written for a special situation. I'm a one performance-only man!" Charles would work with Henson after The Muppet Show on other programs, including The Muppets Go Hollywood and The Muppet Show Live.
Original songs Charles wrote for The Muppet Show include "Blue Fish Blues" (for episode 413), the "Falling Song" and "These Are the Yolks, Folks" (both for episode 506), and "Poke Me Polka" (for episode 515).
A winner of two Emmy Awards, Charles went on to be musical consultant for A Capitol Fourth and the Kennedy Center Honors on PBS.

Song credits
External links