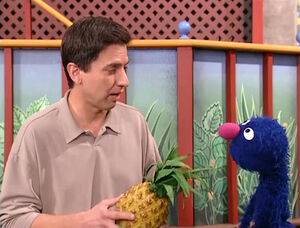 Ray Romano (b. 1957) is an Emmy Award-winning American comedian and actor. He is best known for starring on the sitcom Everybody Loves Raymond.
Romano appeared in Sesame Street Episode 3983. Romano tried to describe "frustrated", but encountered problems because Grover thinks he wants to talk about pineapples, head coverings or cheese balls.
References
During the Muppets' appearance on the November 19, 2011 episode of Saturday Night Live, Kermit balks at Jason Segel's claim that he is a more versatile performer, pointing out that he does great celebrity impressions. He demonstrates his Ray Romano imitation, saying "Hi-ho, I am Ray Ramano! Yaaay!!!"
External links