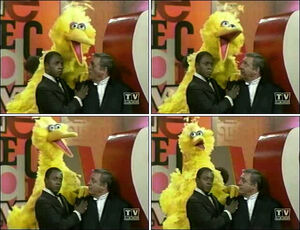 Raymond Burr (1917-1993) was a Canadian actor, known for playing the title roles on the television dramas Perry Mason and Ironside.
Burr appeared on The Flip Wilson Show on October 15, 1970, alongside fellow guest stars Big Bird, Loretta Long, and even played Santa Claus inside Oscar's trash can. In 1973, he hosted the television special Keep U.S. Beautiful, on which the Muppets were featured. Burr introduced what appeared to be a pile of trash, only to turn into garbage-based Muppets singing "Hey, Look Me Over."[1]
Outside of his TV stardom, Burr is remembered for his film career, which started with character roles, often as heavies (including Alfred Hitchcock's Rear Window), but his most iconic film part was as the reporter in Godzilla, King of the Monsters! Prior to gaining TV fame, Burr had been a familiar Hollywood radio actor, often working with Jack Webb (as the brutal Inspector Hellman on Pat Novak, Private Eye and the chief of detectives on the radio version of Dragnet).
Sources
↑ Jim Henson's Red Book - 1/26/1973 – 'Garbage Creatures – "Hey Look Me Over".'
External links
Community content is available under
CC-BY-SA
unless otherwise noted.