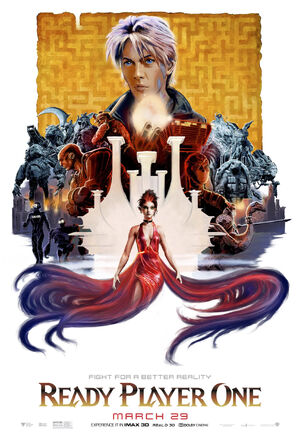 Ready Player One is a 2011 novel by Ernest Cline about a boy who engages in a virtual scavenger hunt in the future. The story, which was adapted into a movie in 2018, references dozens of entertainment properties from the 1980s including Back to the Future, Star Wars, Pac-Man, Spider-Man, Wonder Woman, Stephen King, Douglas Adams, and The Lord of the Rings, among many, many others.
Mentions
Book
A character in the book, Kira Underwood, was born Karen Underwood, but insisted on being called Kira ever since seeing The Dark Crystal.
Broadcasting from a virtual environment, software mogul James Donovan Halliday takes on the appearance of his younger self in the 1970s wearing a Muppet Show t-shirt.
Protagonist Wade Watts describes being raised on OASIS software in a virtual reality simulation of Sesame Street, "singing songs with friendly Muppets."
Watts studies a book called "Anorak's Almanac" which references Halliday's favorite media. Using this as a guide, he consumes several movies and TV shows, including every episode of The Muppet Show.
Movie
The marketing campaign for the movie featured a poster spoofing promotional art for Jim Henson's 1986 film Labyrinth.