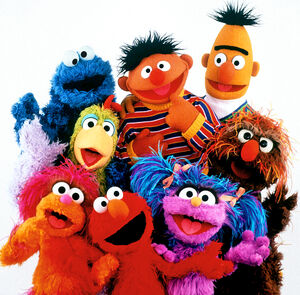 Rechov Sumsum and Shara'a Simsim are the names for the Israeli/Palestinian co-production of Sesame Street. Premiering in April 1, 1998, the series was inspired by the 1993 Oslo Peace Accords, and featured Moishe Oofnik and a re-designed Kippi Ben Kippod from the early Rechov Sumsum, joined by new Israeli Muppet Dafi and two new Palestinian Muppets, Kareem and Haneen.
The characters lived on separate streets, but in a controversial move, occasionally met by crossing over on friendly visits. Jonathan Sagall (famous for his acting work in the Lemon Popsicle series of Israeli cult films) was a regular screenwriter for the show. Seventy episodes were produced, before a new co-production with the Palestinian Authority (PA) began in 2002.
Now called Sesame Stories and produced by Al Quds University's Institute of Modern Media, and based on reflections that promoting friendship between Muppet characters and humans from the warring nations was too much to ask, the current series keeps the characters confined to individual separate co-productions, with different Muppets for each nation/entity (the PA, Israel, and Jordan). Kareem and Haneen were kept by Palestine, but the Israeli Muppets have been replaced by Noah and Brosh.
Humans on season 1 of the series included:[1]
Adam, Israeli, a teenager boy
Adel, Palestinian, a male music teacher[2]
Amal, Palestinian-Israeli, a female doctor and Adel's cousin
Esti, Israeli, a grandmother
Jasmine, Israeli, a 6-year-old girl
Leila, Palestinian, a 12-year-old girl
Sami, Palestinian, 1 9-year-old boy and Um Nabeel's grandson
Sharon, Israeli, male, a bookstore owner
Um Nabeel, Palestinian, a female shopkeeper
In 2007, an independent Shara'a Simsim series debuted.
Sources
↑ Yael Warshel, "How do you convince children that the "army', "terrorists" and the "police" can live together peacefully? : a peace communication assessment model", University of California, San Diego, 2009.
↑ "Israel & Palestine: Rechov Sumsum & Shara'a Simsim - Hummus & Falafel (English Subtitles)", Sesame Street International Social Impact on YouTube, February 1, 2016, at the 1 minute, 48 second mark.