Songs from
Rechov Sumsum
Released
1984
Format
LP
Label
CBS
Cat no.
25677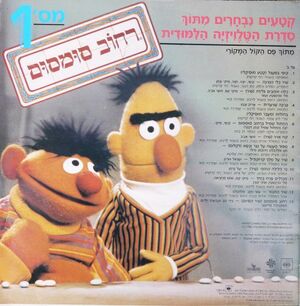 Rechov Sumsum Program 1 (selected songs and stories from the series) is an album that was released in Israel in 1984. It features Israeli songs and stories from the local Sesame Street show, all in Hebrew. Featuring Kippi Ben Kippod.
Track listing
Side One
Rechov Sumsum Theme - vocals by Mazi Cohen, Dafna Armoni, Yoni Rechter, Gidi Gov
Lyrics by Eli Mohar, music written and arranged by Yoni Rechter
Natan comes to Rechov Sumsum and meets Yona, Avner, Hanna and...
Shalom - soundtrack to a Rony Oren cartoon
Natan goes further and meets Shosh and.. almost meets Kippi- Yona, Shosh, Natan and Kippi
Tall, middle, short
Music by Jeff Moss, lyrics by Emily Kaplin
In the playground (recitation)
I can - vocal by Mazi Cohen
Lyrics by Ilana Luft, music by Rafi Kadishzon
In Mosh's store - Simon Soundman, Sam (Mosh)
Ten Turtles
Music and lyrics by Bud Luckey
I'm Special!!! - Bert and Ernie
Yona Goes to Jerusalem - Yona and Kippi
Sometimes I'm Sad and Sometimes I'm Happy - Kippi and children
Lyrics by Ilana Luft, music written and arranged by Yosi Keribushi
Side Two
Kippi in the Circle (instrumental)
Music written and arranged by Rafi Kadishzon
The Instruments Song - Kippi, Yona, Hanna, Miki and Natan
Script, music and lyrics by Nathan Dattner
Everyone Likes Ice Cream
Music and lyrics by Jeff Moss
Swiss cheese - Bert and Ernie sketch
In the Sands (instrumental)
Based on folk tune, adapted by Rafi Kadishzon
Shmil the cat on Rechov Sumsum - Kippi, Miki, Yona and Shmil the cat (Nathan Dattner)
Take a Breath- vocal by Mutzi Aviv
Music and lyrics by Joe Raposo
A Tale of a Carpenter and a Chair (recitation) - Hanan Goldblat and Yehonatan Miller
The Alligator King
Music by Bud Luckey and lyrics by Donald Hadley
Beach Night Candle - vocal by Yael German
Lyrics by Itzik Veingarten, music by Yael German
Growing a Flower Together
Adding - Cookie Monster and Hannan Goldblatt
Rechov Sumsum (end song)
Additional credits
Script: Ilana Luft (tracks 2, 4, 13, side one; track six, side two)
Musical arrangements (most tracks): Rafi Kadishzon
Translation, consultation and adaptation for dubbing: Shafrira Zakay
Adaptation of lyrics: Iris Yotvat (tracks 5, 7, side one; tracks 9, 11, side two)
Notes
Two copies of the album are seen among other music paraphernalia pasted to the walls during the "Rechov Video" segments of Shalom Sesame.
Community content is available under
CC-BY-SA
unless otherwise noted.