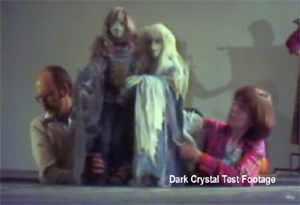 Reflections of the Dark Crystal is a set of behind-the-scenes documentaries about The Dark Crystal, created for the August 2007 "25th Anniversary Edition" DVD set.
Light on the Path of Creation
Brian Froud, Dave Goelz, Brian Henson, David Odell, Kathryn Mullen and Jane Gootnick talk about the story behind The Dark Crystal was created, and the designs of the characters that populated the world. The featurette contains never before seen test footage.
Running time: 21 minutes.
Shard of Illusion
Froud, Goelz, Henson, Odell, Mullen and Gootnick talk about how how the Creature Shop created the characters, and how the puppeteers gave the characters life. The featurette also contains test footage.
Running time: 16 minutes.
See also
Community content is available under
CC-BY-SA
unless otherwise noted.