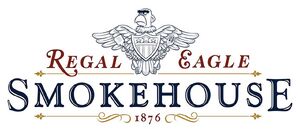 Regal Eagle Smokehouse is a restaurant that opened at The American Adventure at Walt Disney World's Epcot on February 19, 2020 themed around Sam the Eagle, replacing the Liberty Inn.[1]
The restaurant is themed around a barbecue competition called "Sam's Centennial Cookoff- A Salute To All Cook-Offs, But Mostly Barbecue," a reference to Sam's line in Muppet*Vision 3D. Competitors seen in the artwork within the restaurant include Janice, Gonzo, Bobo the Bear, and Rowlf the Dog.
The development of the restaurant's food (and briefly props and decor) was a segment in episode 6 of the Disney+ series Disney Insider.
Sources
External links